Jackson Street Baked Hot Wings Recipe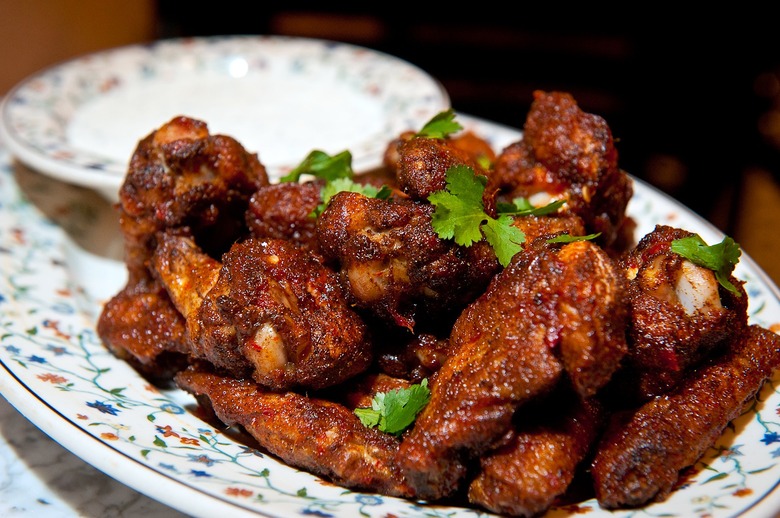 Photo: Gabi Porter
The Jackson Street Baked Hot Wings recipe began when I found out that buffalo wings are basically fried naked wings with a sauce of butter and Frank's hot sauce poured on top. I really wanted to create a baked chicken "hot" wing with Asian flavors that would rival the best deep-fried versions.
After nearly four years of trial and error (and literally thousands of chicken wings cooked) I think I've got it. If you can, spend the extra money and buy organic whole wings — you will find they are much less fatty than regular ones. By cooking them for a long time and rendering a lot of the fat out of the skin, these wings have a super crunch factor. You can adjust the spice by adding or subtracting sambal from the sauce mix.
Molly Quirk is executive chef and owner of Sips & Bites Catering.
Jackson Street Baked Hot Wings Recipe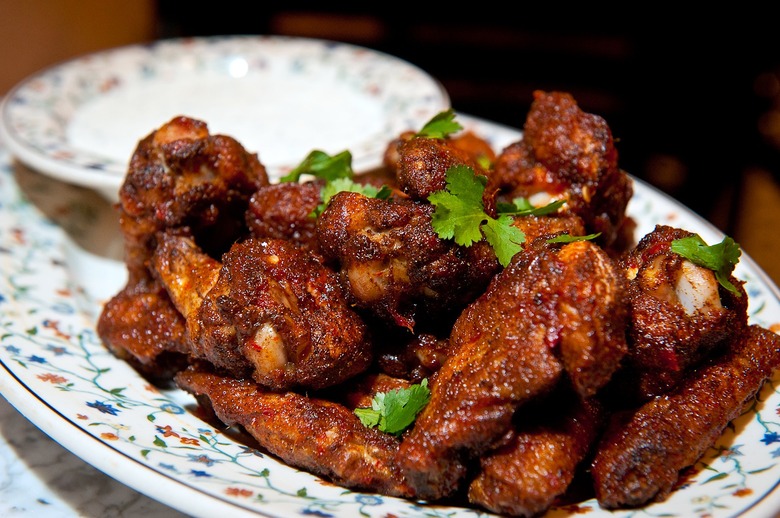 Ingredients
20 whole chicken wings
4 tablespoons Chinese five-spice powder
1 teaspoon cayenne pepper
2 teaspoons kosher salt
6 tablespoons salted butter
6 tablespoons Thai red curry paste
2 tablespoons sambal olek
3 tablespoons brown sugar
1 cup mayonnaise
1 bunch cilantro
2 limes
1 teaspoon salt
Directions
Rub the spice mixture into the wing pieces until there is no powder left in the bottom of your bowl. Cover and refrigerate for 1 hour, up to overnight.
Preheat your oven to 400 degrees and spray 2 sheet pans with baking spray.
Line your wings skin side down on the trays, leaving space between them so they don't steam.
Cook in the middle of the oven for 25 minutes or until the bottoms are crispy and the fat begins to render in the pan.
Flip them over, turn the oven up to 425 degrees and continue to cook for another 20-25 minutes until thoroughly cooked and crispy all over.  Watch them closely (every 5 minutes) as there will be a lot of fat in the pan and it can burn.
Bring sauce ingredients to a simmer in a small sauce pan on the stovetop while your wings are baking. 
When your wings are finished cooking immediately put them into a clean big bowl and drizzle sauce over them and toss to ensure a thin, even coating.
Put all ingredients into the bowl of a food processor and pulse to combine.
Cover and refrigerate for up to 48 hours.