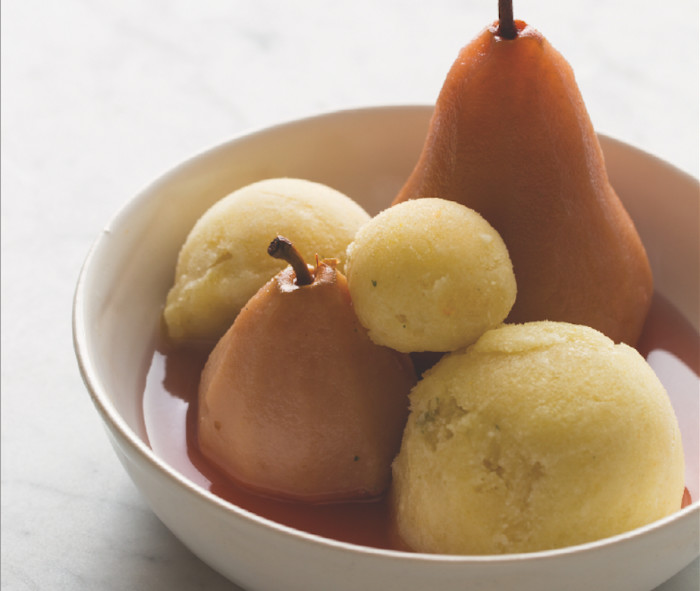 No ice cream maker? No problem, with chef/baker Leslie Bilderback's new cookbook, No-Churn Ice Cream. Freeze and scoop your own ice cream, sorbet and gelato with nothing but a freezer and a scoop. It can be done, and pears are still in season, so poach away!
The flavor of a pear sorbet can stay as natural as you'd like, or it can be augmented by way of the poaching liquid. If you are interested in a pure pear flavor, keep the liquid neutral by using only water. If you'd like a more seasonal, spiced-up pear flavor, use wine and spices.
Ingredients
6

large

pears, seeded and cut into large chunks

4

cups

water

1

cup

sugar

Zest

of half a

lemon, finely grated

Juice

of half a

lemon

Pinch

of

salt
Directions
Combine the pears in a large saucepan with water, sugar, and lemon zest and bring to a boil over high heat. Reduce to a simmer, cover partially, and cook until tender, 20 to 30 minutes.
Drain the tender pears, reserving the poaching liquid, and allow both to cool completely.
Place the cooked pears in the bowl of a bar blender or food processor and process, slowly adding the poaching syrup. Continue processing, adding only as much syrup as is necessary to achieve a smooth puree. Pass the mixture through a fine-mesh strainer to remove unwanted fibers. Season with lemon juice and salt, then transfer the mixture to a freezable container.
Cover loosely with plastic or waxed paper and place in the freezer. Stir the mixture every 30 minutes until it starts to hold its shape. In about 4 hours it will have a scoopable consistency.
Scoop into chilled glasses or bowls and serve with fresh berries, caramel sauce, crushed pecan pralines, a whole poached pear or a splash of Poire Williams.
More frozen-dessert recipes on Food Republic: