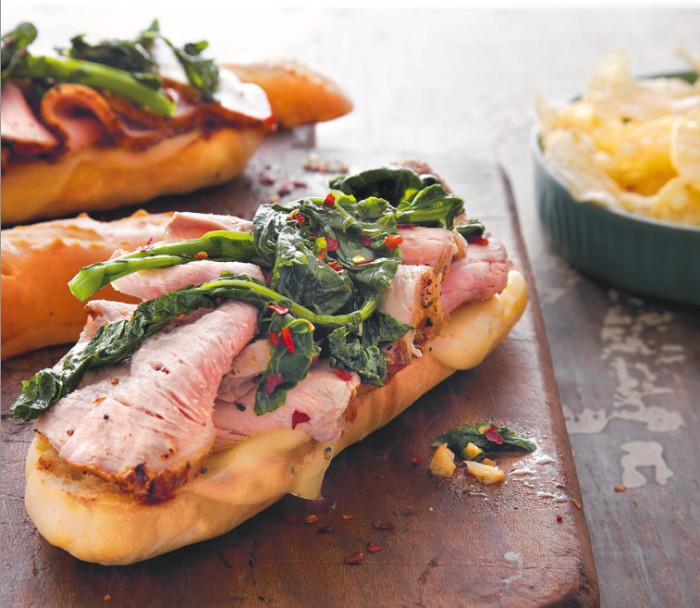 Pro pit master Troy Black, a regular on the Kansas City Barbeque Society circuit, teamed up with the editors of Southern Living magazine to pen All Fired Up, a cookbook that'll keep you busy at the grill all summer long. We presume you know of the Italian pork sandwich, a meaty bomb packed with spicy, garlicky sautéed broccoli rabe and sharp smoked provolone. Here's how to make a great one.
Ingredients
2

tablespoons

minced garlic, divided

1 1/2

tablespoons

finely chopped fresh rosemary

7

tablespoons

extra virgin olive oil, divided

1

tablespoon

kosher salt

2

teaspoons

freshly ground black pepper

1

(2 3/4-pound)

boneless pork loin

1

bunch

broccoli rabe

1/2

teaspoon

dried crushed red pepper

12

1/2-ounce

smoked provolone cheese slices

6

hoagie rolls, split
Directions
Stir together 1 1/2 tablespoons garlic, rosemary, 3 tablespoons oil, salt and pepper in a small bowl. Place pork in a baking dish; rub pork with garlic mixture. Cover and chill at least 2 hours. Let pork stand at room temperature 45 minutes.
Meanwhile, light 1 side of grill, heating to 350° to 400° (medium/high) heat; leave other side unlit. Place pork over lit side, and grill, covered with grill lid, 4 minutes, turning often.
Transfer pork to unlit side of grill, and grill, covered with grill lid, 30 minutes or until a meat thermometer inserted into thickest portion registers 145°. Remove from grill, and let stand 5 minutes before slicing.
Remove florets from broccoli rabe. Trim and discard 1/2 inch of stem from bottom of broccoli rabe. Cook leaves and stems in boiling water 2 minutes. Add florets; cook 5 minutes.
Drain, reserving 1/2 cup cooking water, and plunge into an icewater bath. Heat remaining 4 tablespoons oil in a large skillet over medium heat.
Add remaining garlic and red pepper; sauté 1 minute. Add broccoli; sauté 5 minutes. Add reserved 1/2 cup water; cook 2 more minutes. Arrange 2 cheese slices on bottom halves of rolls; top with pork, broccoli and tops of rolls.
Try out these Grilling Month recipes on Food Republic: