Italian Baked Vegetables With Breadcrumbs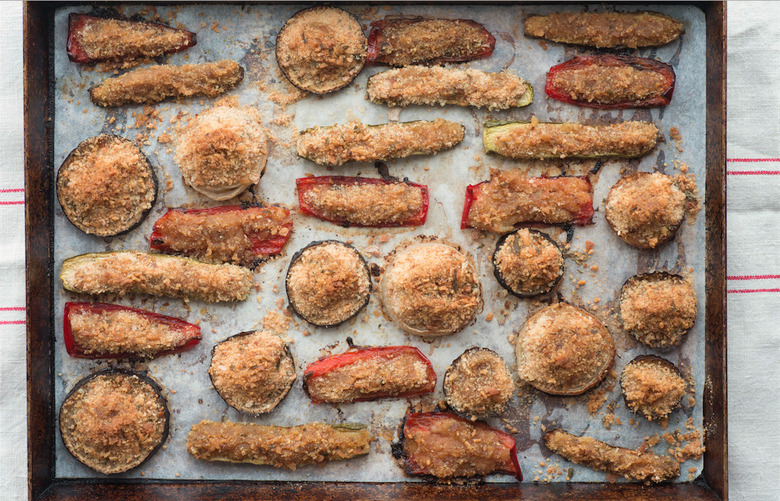 We may receive a commission on purchases made from links.
Check out this fantastic new Italian cookbook, brought to you by longtime Food Republic contributor Katie Parla and photographer Kristina Gill. Shaped by 2,000 years of history, the cuisine of Rome is both distinctly Italian and its own creature entirely. Explore dishes that are rustic yet refined, hearty yet produce-heavy and simple in the best possible way. All at once a history book, photo journal and recipe collection, Tasting Rome is a must-read for every Italian-food enthusiast. Remember: Breadcrumbs don't always mean deep-frying.
Italian Baked Vegetables With Breadcrumbs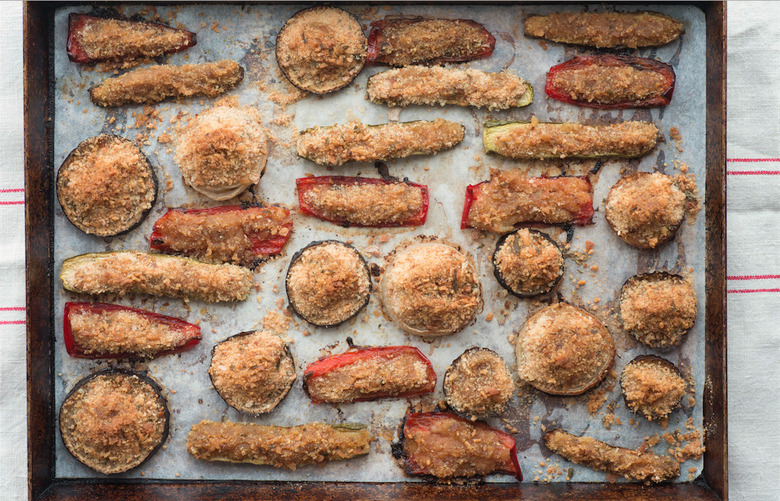 Ingredients
2 red bell peppers
2 white onions
2 zucchini
1 eggplant
1 tablespoon sea salt
1/2 cup extra-virgin olive oil
8 to 10 slices dry country bread
2 teaspoons dry oregano or chopped fresh flat-leaf parsley
2 tablespoons grated Pecorino Romano, Parmigiano-Reggiano or Grana Padano
Directions
:::breadcrumbs:::
Preheat the oven to 250°F.
Spread the bread pieces on a rimmed baking sheet and bake until crispy and completely dried out, 15 to 20 minutes. Remove from the oven, allow to cool, and pulse in a food processor until finely ground to the size of coarse coffee grounds.
In a medium bowl, combine the breadcrumbs with the oregano and grated cheese. Mix thoroughly. The seasoned breadcrumbs will keep in an airtight container for 1 or 2 days.
:::vegetables:::
Preheat the oven to 350°F.
On a parchment paper–lined baking sheet or in an unlined casserole dish, toss the vegetables with the salt, then with ¼ cup of the olive oil. Layer the breadcrumbs on top, at least ¼ inch thick.
Drizzle over the remaining ¼ cup olive oil and bake, covered with aluminum foil, for 30 to 40 minutes, until the vegetables have reduced in size considerably. Uncover and continue to bake until the vegetables are soft, 20 to 30 minutes more.
Serve hot.