Israeli Breakfast Of Champions: Shakshuka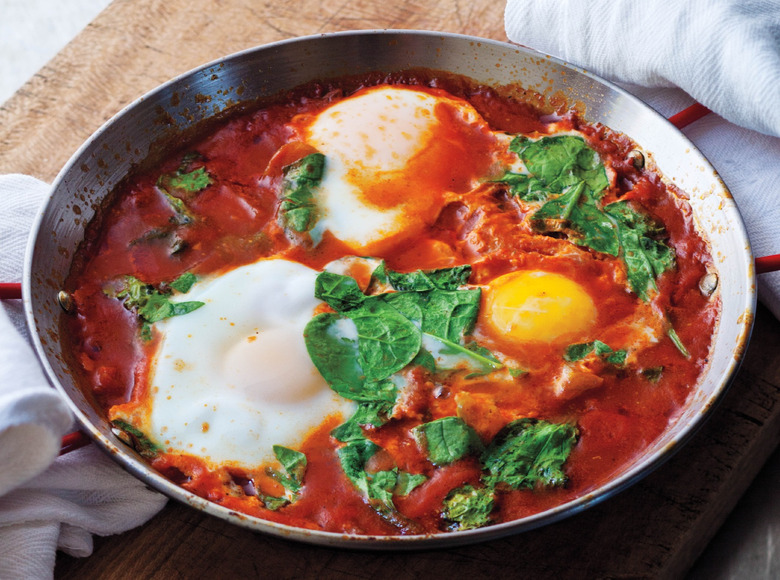 Photo: Quentin Bacon
We may receive a commission on purchases made from links.
One day in our conference room up in the sky, we got to talking about food cultures we all loved but wanted to know more about. With that, the idea of Around The World In 5 Editors was born. Each day this week, one of the editors breaks in with a lineup of stories, recipes, interviews and personal essays dedicated to their respective country. In honor of today's focus on Israeli cuisine, a shakshuka recipe. The dish has origins in North Africa, but is eaten throughout Israel during breakfast time. Here, NYC chef Einat Admony gives us her take on the classic dish. 
In Israel the word shakshuka is synonymous with breakfast. It's best with a slice or two of challah bread to sop up the juices. This is a version of my dad's recipe, except that he used to mix the eggs together, because my older sister refused to eat the egg whites. Here is the recipe I prefer.
Israeli Breakfast Of Champions: Shakshuka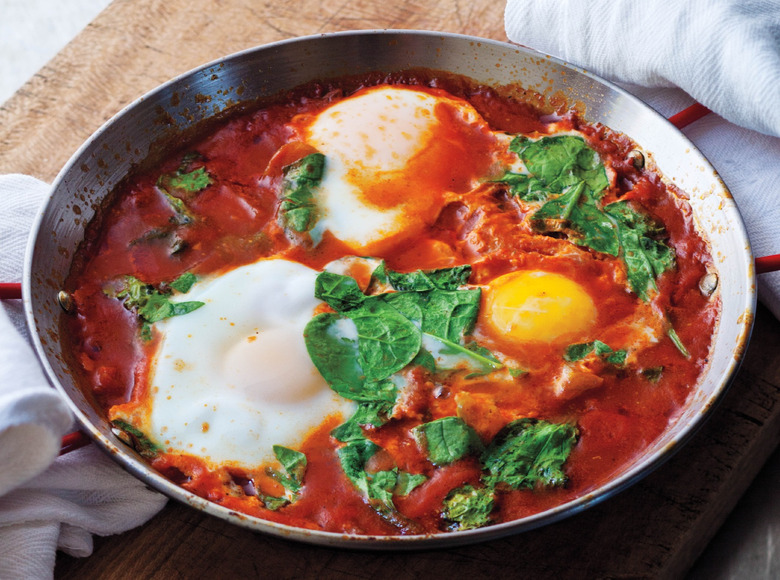 Ingredients
3 tablespoons canola oil
2 medium yellow onions
1 large green bell pepper
1 large jalapeno chile
7 cloves of garlic
1/4 cup tomato paste
1 (28-ounce) can whole peeled tomatoes
1 bay leaf
2 1/2 tablespoons sugar
1 1/2 tablespoons kosher salt
1 tablespoon sweet Hungarian paprika
1 tablespoon ground cumin
1 1/2 teaspoons freshly ground black pepper
1 teaspoon ground caraway
1/2 bunch Swiss chard or spinach
8 -12 large eggs
Directions
Heat the oil in a large skillet.
Add the onions and sauté over medium heat until translucent, 5 to 10 minutes.
Add the bell peppers and jalapeño and cook just until softened, 3 to 5 minutes.
Stir in the garlic and tomato paste and sauté for another 2 minutes.
Slowly pour in the tomatoes.
Stir in the bay leaf, sugar, salt, paprika, cumin, pepper and caraway and let the mixture simmer for 20 minutes.
Layer the Swiss chard leaves on top.
Crack the eggs into the tomato mixture.
Cover and simmer for approximately 10 minutes or until the whites of the eggs are no longer translucent.
Israeli Couscous With Chicken Sausage And Over-Easy Eggs Recipe
Braised Peas And Ham With Eggs Recipe
Eggs And Bacon With Spicy Fried Rice Recipe