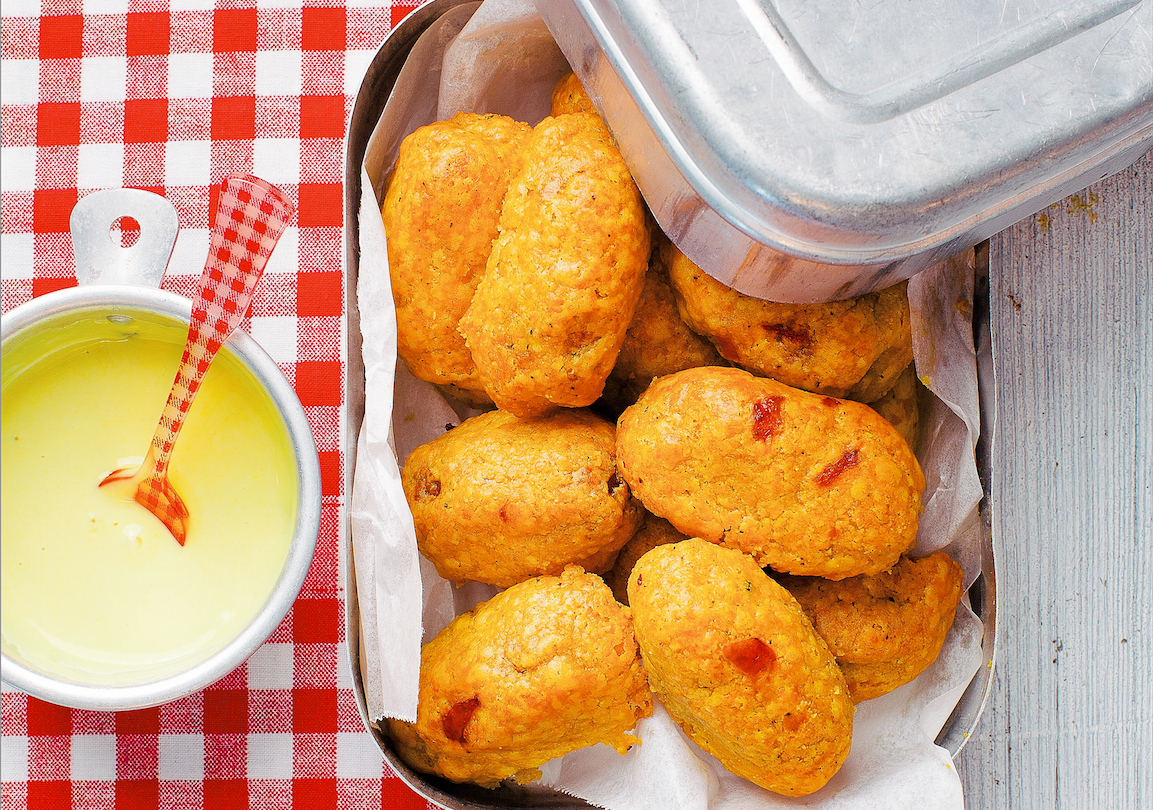 Let's hear it for pimento cheese, that quintessential Southern appetizer of delicious cheddar made tastier and spreadable via mayo and cream cheese and flavored with pimentos and…well, anything else. It's also incredibly versatile — check out Pimento Cheese, the new cookbook from Perre Coleman Magness, author of blog The Runaway Spoon. Welcome to the marriage of two beautiful things: pigs in a blanket and delectable pimento cheese.
Slightly silly, but no less tasty for it, I have served these to kids to rave reviews, but also to grown-ups in a cocktail setting. That garnered giggles, but every last one of the little pigs was gobbled up.
Ingredients
Honey Mustard Dip
1/2

cup

mayonnaise

1/4

cup

prepared yellow mustard

2

tablespoons

honey
Pigs And Blankets
1

(14-ounce) package

cocktail sausages, such as L'il Smokies

1

(2-ounce) jar

diced pimentos

8

ounces

sharp orange cheddar cheese

8

tablespoons (1 stick)

unsalted butter

1

cup

all purpose flour

1

teaspoon

worcestershire sauce

1/2

teaspoon

sweet paprika

1/2

teaspoon

kosher salt

1/2

teaspoon

freshly ground black pepper

dash of

cayenne pepper
Directions
For the dip:
Whisk the ingredients together in a small bowl and refrigerate for several hours to allow the flavors to blend.
For the pigs in blankets:
Drain the sausages and pat them dry on paper towels.
Set aside to air dry for about 30 minutes.
Rinse and drain the pimentos and pat dry on paper towels as well.
Grate the cheese and the butter in a food processor fitted with the grating disk.
Switch to the metal blade, and add the flour, Worcestershire sauce, paprika, salt, black pepper and cayenne. Process until the mixture is crumbly and begins to come together.
Add the pimentos and continue processing until the dough forms a ball that pulls away from the sides of the bowl.
Pinch about 3 teaspoons of dough off the ball and flatten it into a disk between your palms.
Place a sausage in the center of the dough disk and bring it up to cover the sausage.
Pinch together to enclose, then roll between your palms to completely seal in the pig.
Place the package on a parchment paper-lined rimmed baking sheet and continue with the rest of the dough and sausages. I consistently make about 32 of these from this recipe, which leaves 4 or 5 extra sausages. Consider these the cook's bonus.
When all the pigs are in their blankets, transfer the baking sheet to the refrigerator for at least an hour. This will firm the dough and prevent it from spreading during baking.
When ready to bake, preheat the oven to 400°F. Bake the pigs for 20 to 25 minutes until the cheese dough is puffy and nicely browned.
Serve warm with the Honey-Mustard Dip.
Find more cheesy appetizers on Food Republic: