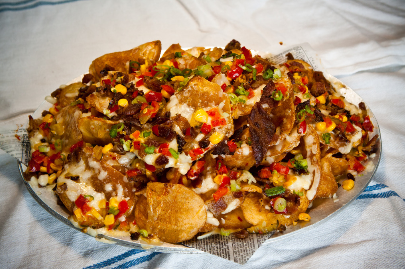 We snagged this recipe for Irish nachos from Rock & Reilly's Irish Whiskey Pub in Los Angeles. It's the perfect junk food for padding out/soaking up all that we plan to imbibe on that sacred day of drinking with friends. And you'll want friends around for these nachos, the recipe yield A LOT of Irish cheddar-covered chips.
The nachos call for queso sauce (we heard them), but we're pretty averse to the stuff in the jar. Instead, check out our recipe for authentic chile con queso and dig in knowing you did everything in your power to make these St. Patty's day nachos extra-Irish.
Ingredients
1

large bag

tortilla chips

6

small

Kenny Beck Potatoes, boiled and sliced

2

red bell peppers, diced

3

cups

roasted corn kernels

1

cup

pickles, diced

1

cup

Irish Cheddar, shredded

queso sauce*
Directions
Roast unhusked corn on a baking sheet, turning occasionally, until heated through and crisp-tender, about 15 minutes.
Let cool. Shuck corn and cut kernels from cobs.
On a large ovenproof plate, alternate layers of sliced potato and tortilla chips with the shredded cheddar, leaving just enough cheese to top the nachos.
Top the layered tortilla chips and potatoes with bell peppers, corn and pickles, then drizzle with queso dip to your liking.
Place the nachos under a broiler for about 2-3 minutes until the top is bubbly, then serve hot with your favorite St. Patrick's day beer.
More nachos recipes on Food Republic: