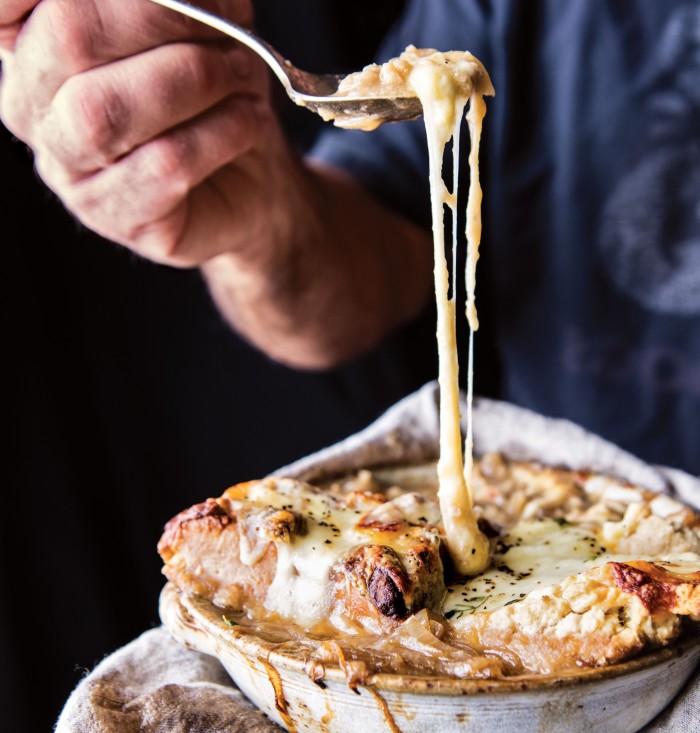 There's always a secret ingredient in recipe developer and food stylist Tieghan Gerard's hearty homestyle dishes. This extra-cheesy, Guinness-spiked Irish French onion soup is wonderfully filling and will make your kitchen smell amazing. Pick up her new cookbook, packed with comforting fare that will warm you right up. 
I'm really not someone who loves onions — I actually use them rather sparingly in my cooking — but caramelized onions are a completely different story. I could put them in and on pretty much anything, and I guess that's why I love French onion soup. It's a rich, decadent, and cozy soup. I took the classic and put my own little Irish twist on it using Guinness beer and Irish soda bread. Even my mother (who hates onions) loves this soup, although I think she may just eat it for that cheesy bread on top. This is a great soup to make in advance and rewarm on the stove before serving. The longer it sits, the more flavor it develops!
Notes: To make this more of a classic French onion soup, use your favorite red wine in place of the beer and swap the soda bread for a sliced baguette.
To make it vegetarian, use vegetable broth in place of the beef broth, but note that your soup will be lighter in both color and flavor.
Ingredients
6

tablespoons

salted butter, cubed

4

sweet onions, thinly sliced

2

garlic cloves, minced or grated

1

tablespoon

light brown sugar

1 1/2

cups

Guinness stout

3

tablespoons

all-purpose flour

2

quarts

low-sodium beef broth

1

tablespoon

worcestershire sauce

2

bay leaves

3 or 4

sprigs

fresh thyme, plus more leaves for garnish

kosher salt

Pinch of freshly ground pepper

4

slices

Irish soda bread

2

cups

shredded sharp cheddar cheese
Directions
For the soup
Preheat the broiler to high with a rack in the top third.

In a large pot, melt the butter over medium-high heat. Add the onions, garlic, and brown sugar and cook, stirring frequently, for about 10 minutes, until softened. Cook for 10 minutes more, stirring slightly less often, until the onions are deep golden in color and caramelized. Add ½ cup of the beer, letting it cook into the onions until the beer has evaporated, about 5 minutes.

Reduce the heat to low and sprinkle the flour over the onions, stirring to coat. Cook for about 5 minutes, until the raw flour taste has cooked off. Add the remaining cup of beer, the broth, Worcestershire, bay leaves, and thyme.

Increase the heat to medium-high and return the soup to a simmer. Cook until warmed through, about 10 minutes. Season with salt and pepper.

Meanwhile, arrange the soda bread slices on a baking sheet in a single layer. Sprinkle evenly with the cheddar and broil until the cheese is bubbling and golden brown, 3 to 5 minutes.

Remove the thyme sprigs and bay leaves from the soup. Ladle the soup into four bowls and place a cheesy bread slice on top of each. Sprinkle with thyme leaves. Eat!