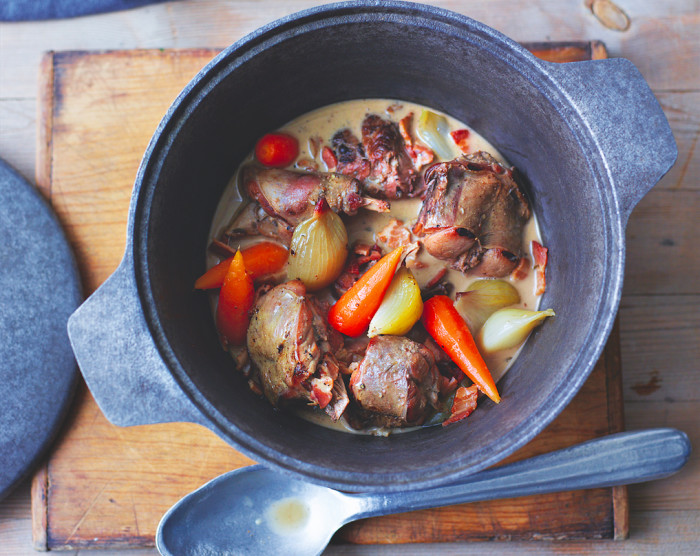 Gearing up to make Irish food? Look no further than renowned chef/author Clodagh McKenna. Her latest book,Clodagh's Irish Kitchen, updates classic Irish dishes for the global palate. Basically, you won't be boiling any beef (or if you do, it'll be for a good reason). Catch yourself a rabbit and make a dish that's as authentic as it is delicious. 
It may come as a surprise to many of you to read that cooking rabbit was very popular in Ireland in the early to mid-'90s. Ireland, with its expanse of woodlands, boglands and inland waterways, is an ideal habitat for all manner of game. Many families, including my grandparents, were brought up on inexpensive boiled rabbit and rabbit soup—a weekly staple in many homes. Nowadays in Ireland it is less popular, but many chefs like myself love to cook with it using cider or wines to deepen the flavor. For me, cider is the most delicious ingredient to cook with rabbit — its dry sweetness lightens the rich flavor of the meat.
Ingredients
2

tablespoons

olive oil

10 1/2

ounces

bacon, chopped

1

wild rabbit, skinned, cleaned and jointed

12

baby carrots

8

shallots, peeled but left whole

4

cloves

garlic, peeled and crushed

2

tablespoons

golden honey

Salt and freshly ground black pepper

1

sprig

of thyme

1

bay leaf

1 2/3

cups

hard apple cider
Directions
Preheat the oven to 275°F.
Heat a skillet over medium heat and add the olive oil.
Stir in the bacon and cook until golden and crisp.
Transfer the bacon to a casserole dish.
Add the rabbit joints to the skillet and cook until golden all over, then place in the casserole dish.
Lastly, add the carrots, shallots, garlic and honey to the skillet and cook until caramelized.
Transfer to the casserole dish, season with salt and black pepper, and stir in the thyme and bay leaf.
Pour over the cider.
Cover and cook in the oven for 2 hours.
Serve.
Find more wild-game recipes on Food Republic: