Indian Tonight: Slow Cooker Butter Chicken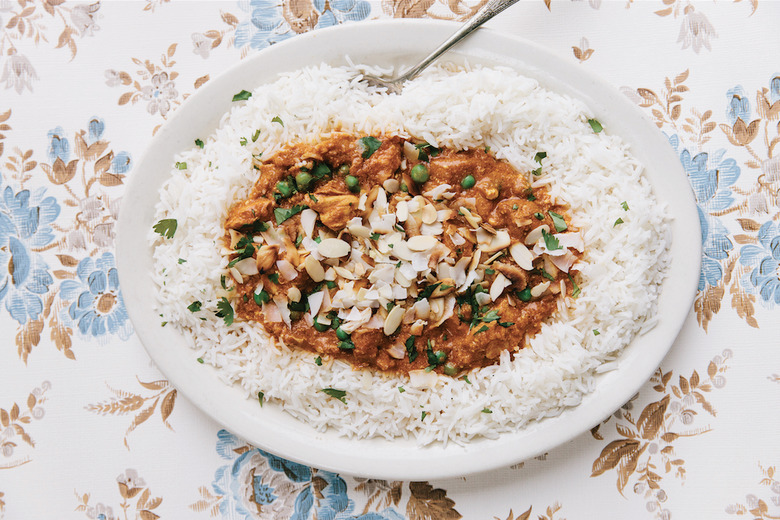 We may receive a commission on purchases made from links.
Feeding your family a healthy (and exciting) diet can be a challenge on busy weeknights. Simplify things with food writing and cookbook author Sarah Waldman's new collection of recipes, and never wonder what to make again! This slow cooker butter chicken is a crowd-pleaser, time and again. 
I encourage you to make this meal your own by choosing toppings and sides that are your family's favorites or that need to be eaten up. You know the ones—like that last sprinkle of nuts taking up precious storage space and staring at you, longingly, from the cabinet. I typically boil up some rice and toast slivered almonds with a handful of flaked coconut, but warm naan bread is another good accompaniment.
Kids Can: Little hands can use child-safe knives or kitchen shears to chop cilantro for the garnish.
For Baby: Indian Butter Chicken is very tender and can be easily shredded with two forks. Mix in some rice and you have baby's meal.
Tomorrow's Dinner: Naan Roll-Ups
Toast a few pieces of naan bread, spread on a thin layer of mango chutney, then spoon some leftover butter chicken on top. Roll up the naan and serve with a big salad.
Indian Tonight: Slow Cooker Butter Chicken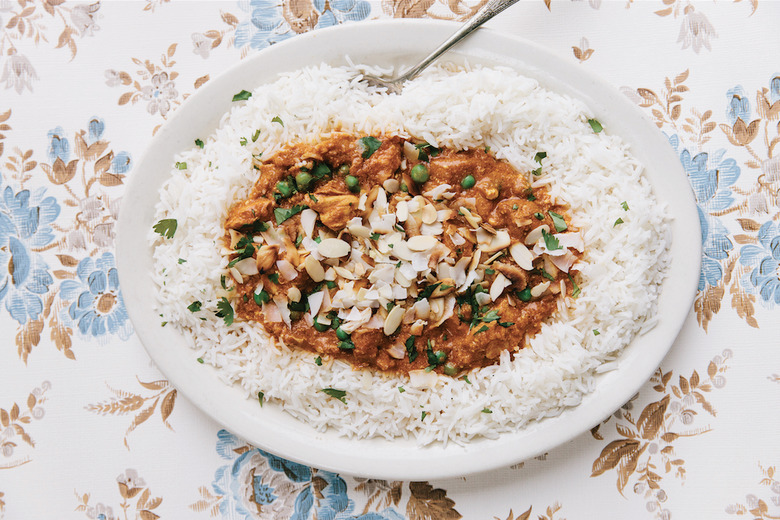 Ingredients
2 pounds boneless, skinless chicken pieces (thighs and/or breasts)
1 onion
6 garlic cloves
1 1-inch piece fresh ginger
2 teaspoons curry powder
1 teaspoon ground cinnamon
1 teaspoon ground cumin
1 teaspoon kosher salt
4 tablespoons unsalted butter
1 6-ounce jar tomato paste
1 13.5-ounce can full fat coconut milk
3 tablespoons plain full fat Greek yogurt
2 tablespoons freshly squeezed lemon juice
1 1/2 cups sweet peas (thawed if frozen or blanched if fresh)
cooked basmati rice
chopped fresh cilantro
toasted coconut flakes
toasted slivered almonds
Directions
Cut the chicken into 2-inch chunks. Fill a 6-quart slow cooker with the chicken, onion, garlic, ginger, curry powder, cinnamon, cumin, and salt. Stir to combine.
Add in the butter, tomato paste, and coconut milk. Mix again.
Cover and cook on low for 8 hours until the chicken pulls apart easily with a fork.
Before serving, stir in the Greek yogurt, lemon juice, and peas. Allow everything to heat through, then serve the butter chicken over a bed of basmati rice.
Top with cilantro, toasted coconut, and toasted slivered almonds, if desired.