Indian Slow-Braised Chicken Dum Pukht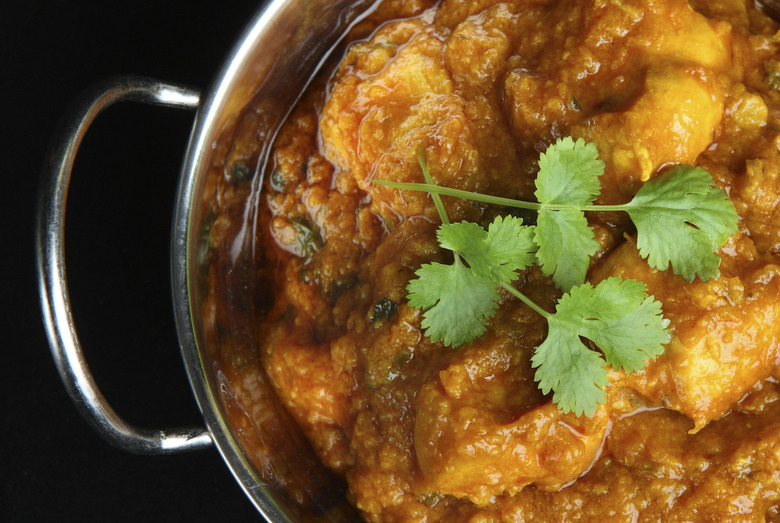 I've been making this classic chicken curry, also known as chicken dum pukht (liberally translated as "slow-braised chicken") for close to a decade, and in many variations: a splash of coconut milk, subbing firm white fish chunks for the chicken, using ripe plums or apricots instead of peaches.
This curry is a great blank canvas, and a superb way to feed a bunch of people who are tired of the same-old dishes one makes for a crowd. It's also my ultimate comfort food — my freezer is full of this dish at various stages, from the onion-garlic-ginger blend to the finished product. You can even simmer halved medium-boiled eggs in the sauce for a few minutes and serve on toast for one of the heartiest vegetarian brunches around.
The addition of cilantro stems (there is a ton of flavor in those), fresh peach and tomato and lime juice give this curry a light flavor and clean, vegetal finish — very unlike the heavy, oily curries you might get at a takeout joint. The cashews give the sauce richness and body and helps it bind to the rice. Any Middle Eastern or Indian market should have garam masala and fresh or frozen curry leaves. The dried ones aren't very flavorful, so unless you can get them fresh or frozen, feel free to omit.
Indian Slow-Braised Chicken Dum Pukht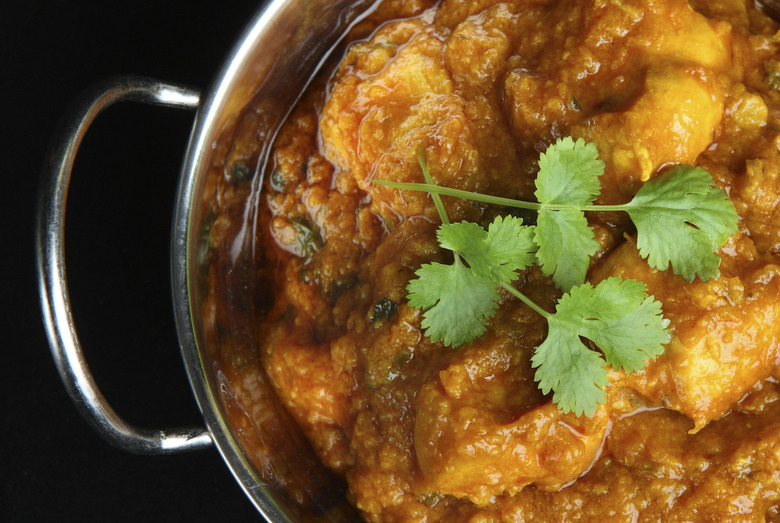 Ingredients
1 1/2 pounds bone-in chicken thighs and legs
3 tablespoons clarified butter or ghee
1 large red onion
2 cloves garlic
1 1-inch chunk ginger root
1 serrano chile
1 bunch cilantro washed very well
1 ripe peach
1/3 cup raw unsalted cashews
2 heaped tablespoons garam masala
2 large ripe tomatoes
6 fresh curry leaves (look in the freezer section of your Indian/Middle Eastern market)
juice of one lime
1 cup chicken stock
basmati rice
Directions
Season the chicken with salt and pepper.
Heat a tablespoon of ghee over medium-high heat, then add the chicken (in batches if necessary) brown on each side for 2-3 minutes and set aside.
Place onions, garlic, ginger, chili and cilantro stems in a blender or food processor and blend until smooth. 
Heat the rest of the ghee in a large Dutch oven over medium-high heat, then pour the mixture in and fry for 8-10 minutes, stirring frequently. 
Meanwhile, purée the peach and cashews in the blender, adding a little water if it's too thick.  
Add the garam masala to the pot and stir well to combine. The mixture should resemble a thick paste. Cook for another minute, stirring frequently, until spices release their fragrance. Be careful not to burn them.
Preheat the oven to 325F.
Pour in the peach-cashew mixture, add the chopped tomatoes, curry leaves, chicken stock and lime juice, stir well and simmer for 10 minutes.
Taste for salt, then add the chicken to the pot, making sure the pieces are coated with the sauce. Add a little more stock if necessary.
Cover, transfer to the oven and cook for 2 hours or until the chicken is falling off the bone with very little prompting.
Serve with steamed basmati rice, plain yogurt, lime wedges and chopped cilantro leaves.
Ethiopian Chicken Doro Wat
Chicken Laksa
Chicken Mulligatawny Soup