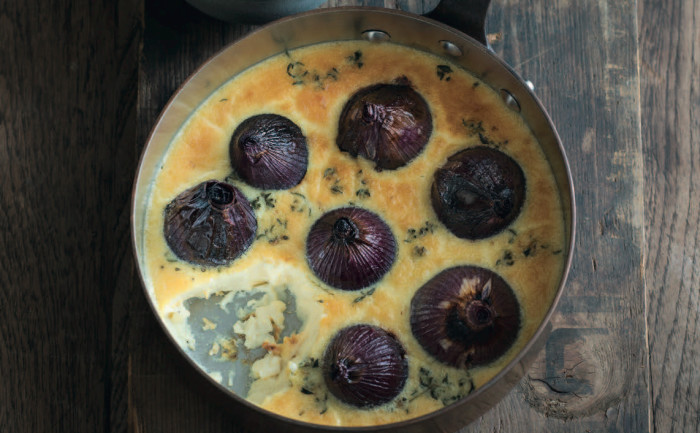 This is a book about cheese like you've never consumed it before. Travel around the world for stories from some of the best cheesemakers in the game today, and try their time-tested (or brand-spankin'-new) recipes at home. Author Nick Haddow, founder of Tasmania's Bruny Island Cheese Company, knows the industry and its treats like no one else. 

This baked onions in Brie custard is great as a stand-alone vegetarian dish or as a fancy side dish to roast chicken. I have used Brie in this recipe, but you could use any mold-ripened cheese that has a bit of flavor. You could even use a funky washed rind if you like.
Ingredients
8

small red onions

4

eggs

4

egg yolks

7

ounces

thick (double/heavy) cream

7

ounces

full-cream (whole) milk

5 1/2

ounces

brie, or similar soft cheese, rind removed, cut into cubes

6

thyme sprigs, leaves picked

boiling water
Directions
For the onions
Preheat the oven to 400°F.

Trim both ends of the onions and peel, but leave whole. Place on a baking tray, season and bake in the oven for 40-50 minutes until cooked through and golden brown on the outside. Set aside to cool. Reduce the oven temperature to 320°F.

In a large bowl, whisk the eggs and egg yolks very thoroughly — there should be no egg white visible. Set aside.

Place the cream and milk in a saucepan over low-medium heat and bring to a low simmer. Immediately add the Brie and stir until completely melted and incorporated into the milk and cream. Remove from the heat, season with salt and pepper and allow to cool for a few minutes.

Slowly pour the milk mixture into the beaten egg, using a whisk to gently stir as you go (don't add too much air).

Arrange the onions in a 8-cup-capacity ceramic baking dish or ovenproof saucepan. Carefully pour the custard mixture around the onions and sprinkle over the thyme. Place the dish in a deep baking tin and pour enough boiling water into the tin to come halfway up the sides of the dish. Bake until the custard sets completely, about 30 minutes. Allow to cool slightly before serving.