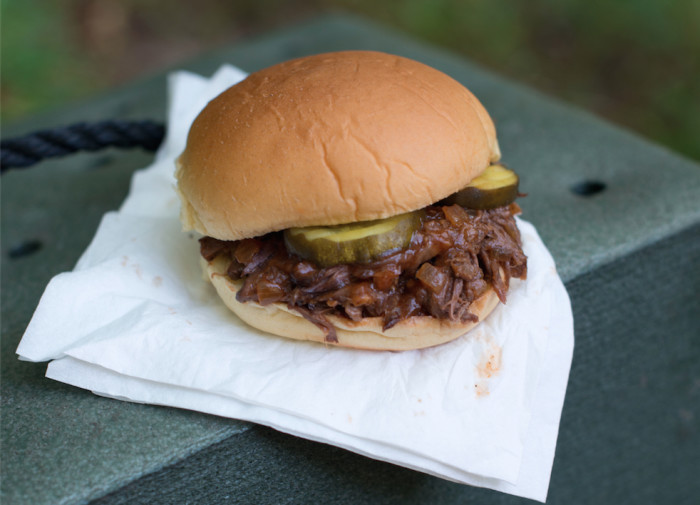 Hunter, author, outdoorsman and preparer of delicious wild game Steven Rinella is the host of Meat Eater, which airs on The Sportsman Channel. Out today is the first volume of his most recent book: The Complete Guide to Hunting, Butchering and Cooking Wild Game. This installment tackles big game — really big game. Elk, moose and buffalo big. Once you've tracked, hunted and butchered these titans, you'll need to know what to do with hundreds of pounds of meat. Chicken it ain't. Tackle the neck, often the toughest cut on the carcass, with a slow-cooked pulled barbecue sandwich better than anything you…well, didn't track, hunt, butcher or cook.
This is a great dish to make with a whole venison neck, or a 4- to 6-pound piece of elk or moose neck. Since the neck is a heavily used muscle, it takes a lot of cooking to tenderize the meat. I have great luck using a slow cooker. After 6 to 8 hours, the meat can be pulled right off the bone. The spine ends up looking as clean as a museum specimen, and the meat is perfect for BBQ sandwiches.
If you don't have time to make your own stock from scratch, put store-bought vegetable or chicken stock in a large pot on the stove, add an onion (peeled and cut in half), and some extra bones from the freezer (chicken wings, venison shank, etc.). Bring just to a boil, then lower to a simmer. Skim off and discard any scum on the surface. Add a bay leaf, a sprig of thyme, or parsley stems if you have them. Then keep at a low simmer for several hours. Skim off and discard the fat on the surface. Strain out the solids. Use the stock immediately, or cool and freeze.
Reprinted with permission from The Complete Guide to Hunting, Butchering and Cooking Wild Game
Ingredients
4 to 6

pound

neck, bone-in (use a whole venison neck or a 4- to 6-pound piece of elk or moose neck)

kosher salt

freshly ground black pepper

3

tablespoons

vegetable oil

2-3

quarts

game stock or enriched stock (see above)

1/2 to 1

cup

BBQ sauce

Hamburger buns
Directions
For the sandwich
Bring the neck to room temperature. Season liberally with salt and pepper all over.

Heat a large sauté pan or roasting pan over medium-high heat. Add the oil. When the oil shimmers, swirl the pan to coat well. Sear the neck until it's browned on all sides.

Put the browned neck in a 6-quart slow cooker. Add enough stock just to cover the neck. Cover, set the slow cooker on low, and cook for a minimum of 6-8 hours, until fork tender. (Alternatively, use a 6- to 8-quart Dutch oven, and cook in a 300º oven for 6-8 hours.) Keep checking to be sure it's covered with liquid at all times. You'll know it's done when it flakes into really nice pieces.

Remove the meat from the liquid and start shredding. (Don't throw away the extra cooking liquid — use it like stock.) The meat should shred like pulled pork. Toss with BBQ sauce and serve in soft hamburger buns with sliced pickles and potato chips on the side. A couple of spoonfuls of coleslaw on top of the meat is a great addition.

Alternatively, you can store the meat in the fridge for up to 1 week or in the freezer for up to 1 month.