Huevos Rancheros Recipe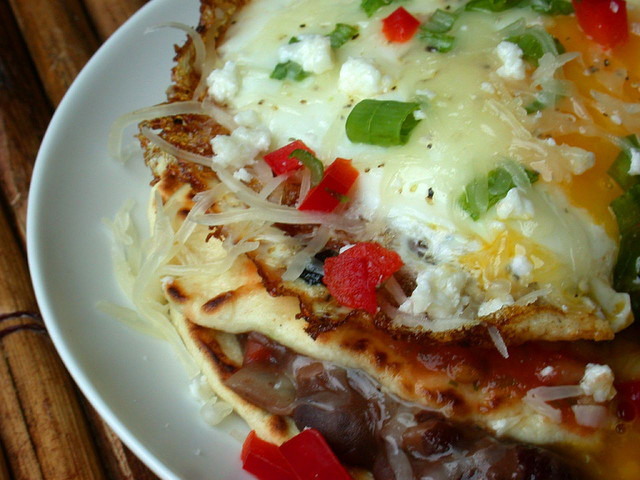 Photo: Jocelyn McAuliflower on Flickr
This classic Mexican dish of ranch-style eggs, served with crispy tortillas, refried beans and a spicy tomato salsa, guarantees a spicy start to the day.
I generally prefer to cook things from scratch, but to do this with the refried beans requires good organizational skills, and I've assumed that yours may be in some disarray. So, I recommend you get a can of refried beans to reheat. They add something great to this dish, in particular a very pleasing texture.
Huevos Rancheros Recipe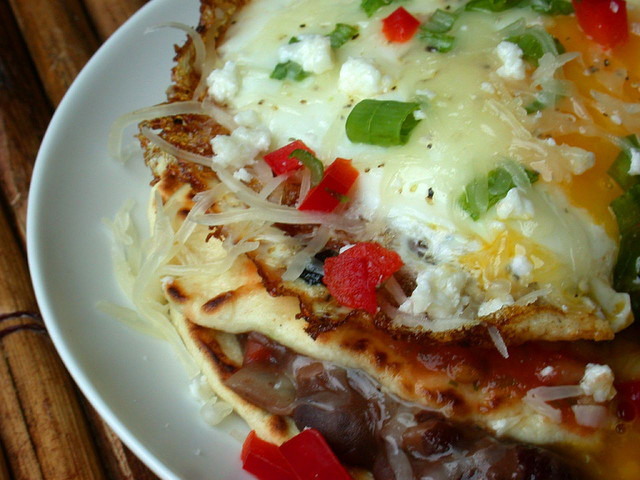 Ingredients
olive oil
1 onion
large garlic clove
1 green chili pepper
1 14-oz can chopped tomatoes
handful of coriander
Salt and pepper
1 can refried beans
4 corn tortillas
4 free-range eggs
1 lime
1 red chili pepper
Directions
Heat a little oil in a frying pan or wok and gently fry the onion, garlic and green chili for about five minutes, until the onion is softened but not colored. 
Add the tomatoes and half the coriander to the pan, and season with salt and pepper to taste. Simmer for about 15 minutes, until the mixture has thickened slightly. 
Meanwhile, preheat the oven to 425°F, and gently heat the refried beans in a saucepan over medium heat. Lightly brush the tortillas with oil. Place directly on a rack in the oven for approximately 10 minutes, until golden and slightly crispy. 
In a separate, heavy-bottomed pan, fry the eggs gently in a little olive oil. Just before serving, add a squeeze of lime juice to the tomato salsa, and stir in. 
To serve, place two tortillas on each plate (slightly warmed). Spread a quarter of the refried beans on each tortilla, followed by a little salsa, and top with the fried eggs. Spoon the rest of the salsa on and around the eggs. Garnish with the remaining coriander and the sliced red chili, and serve with wedges of lime.