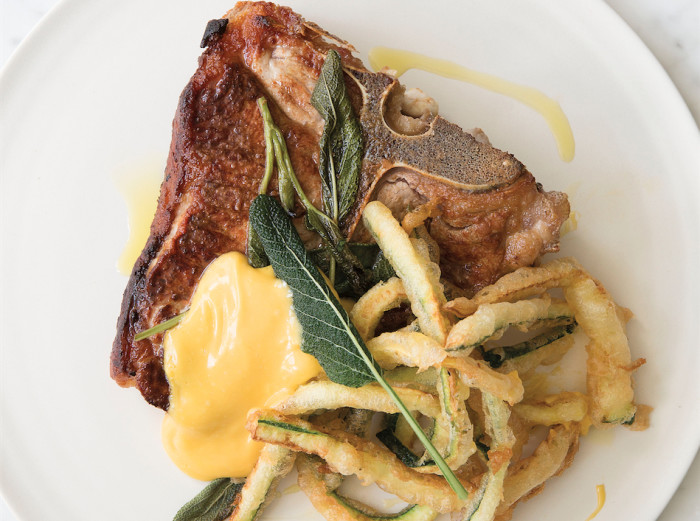 Chef, restaurateur, food writer and author Skye Gyngell recently released her fourth cookbook, named for her new London restaurant. Dive into some of the recipes that have made her one of the most celebrated chefs in the city. With a spotlight on fresh, flavorful and inventive cuisine that makes the most of local gardens and markets, Spring has definitely sprung. This little cow told us. 

When you are in the mood for meat, there is nothing more delicious than a veal chop cooked simply — a good sprinkle of sea salt, a little olive oil, and a squeeze of lemon is all that is needed. And almost any accompaniment will work alongside. In the summer months, I like to serve it with tender sweet batons of zucchini veiled in a light batter and deep-fried for a moment or two. They act in the same way as perfectly cooked thin fries. The unctuous garlicky dollop of aioli on the side is perfect for dipping.
Ingredients
6

veal chops

A little olive oil, for cooking

sea salt and freshly ground black pepper
Shoestring zucchini
3 1/8

cups

all-purpose flour

1 1/8

cups

olive oil

1 1/8

cups

water

1

teaspoon

smoked paprika

2

organic free-range egg whites

5

zucchini

vegetable oil, for deep-frying

Handful

sage leaves
Aioli
3

organic free-range egg yolks

juice of 1 lemon

2

garlic cloves, peeled and crushed

1 1/4

cups

extra-virgin olive oil
Directions
For the dish
First, make the aioli. Put the egg yolks in a food processor and add the lemon juice, garlic, and a good pinch of salt. Blitz briefly to combine, then with the motor running, slowly pour in the olive oil through the funnel. When it is all incorporated and you have a thick aioli, transfer to a bowl. (It will keep in the refrigerator 1 day.)

To make the batter for the zucchini, sift the flour into a large bowl and make a well in the center. Pour in the olive oil and half the water, then whisk to combine to a thick, smooth batter. Incorporate the remaining water and paprika. In a separate, clean bowl, whisk the egg whites until they hold stiff peaks, then fold into the batter. Refrigerate until ready to use; the batter will sit happily for a couple of hours.

When ready to cook, cut the zucchini in half. Finely slice lengthwise, then cut into fine matchsticks. Put in a bowl and pour on a little of the batter. Toss together lightly using your fingertips, ensuring that all the batons are well coated.

You will need to cook the veal in batches or in two large pans to avoid overcrowding. Put 2 large nonstick pans over high heat. When they are really hot, add the oil, then place the veal chops in the pan and cook, without moving, 4 minutes on one side until golden on the underside. Turn and cook a further 4 minutes on the other side. Remove from the pan and leave to rest in a warm place 10 minutes. Season the chops really generously on both sides.

Meanwhile, to cook the zucchini, heat the oil in a deep fryer or other suitable deep, heavy-based pan to 350°F [180°C]. Fry the zucchini matchsticks in batches, 3 to 4 minutes, until just golden. Remove and briefly drain on paper towels. Lower the sage leaves into the hot oil in a basket and fry a few seconds, then remove and drain on paper towels.

Put the veal chops on warm plates with a pile of shoestring zucchini. Add a dollop of aioli and finish with the fried sage leaves.