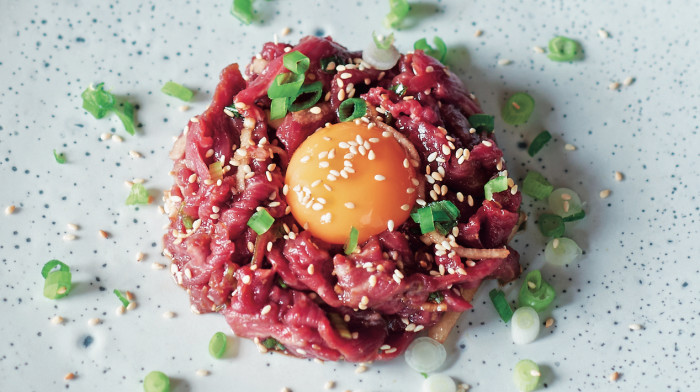 Da Hae and Gareth West, co-owners of London's bustling "Ameri-Korean" street food restaurant Busan BBQ, just released a new collection of their favorite recipes. Peruse their cookbook, K-Food, and get to know their distinct style, from classics to inventive fusion and everything in between.
Though we might be a little biased, this is definitely our favorite way of eating raw beef. Basically a Korean steak tartare, yukhoe is made from raw tenderloin or fillet steak that has been lightly marinated to become soft and tender. Flavored with soy and sesame, this dish is very delicate, with the egg yolk acting as a sauce that binds everything together and the lovely balance of sweet and salty really bringing out the beef's natural flavors.
Ingredients
7

ounces

beef fillet or tenderloin

1/4

Asian pear, peeled, cored and cut into fine matchsticks

1

egg yolk

1/2

teaspoon

sesame seeds

1/2

teaspoon

scallion, trimmed and finely sliced
Marinade
1

tablespoon

regular soy sauce

1/2

teaspoon

sesame oil

1

tablespoon

roasted sesame seeds

1/2

tablespoon

liquid honey

1

garlic clove, minced

1/2

scallion, trimmed and finely sliced

pinch of salt
Directions
For the tartare
For the marinade, mix together all the ingredients in a bowl. Set aside.

Trim the beef fillet of any fat or sinew and cut it into wafer-thin slices using a sharp knife.

Add the beef slices to the marinade bowl and mix them around with your fingertips to make sure they are completely coated. Add the pear and mix together.

Place a large cookie cutter or chef's ring onto the center of a plate. Spoon the beef mixture into the cutter or ring, pressing down on the edges. Carefully place the egg yolk in the middle.

Remove the cutter or ring and serve scattered with the sesame seeds and scallion slices.