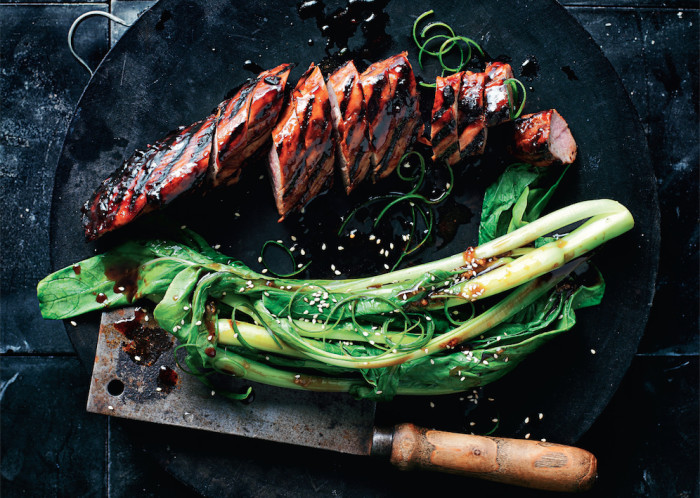 Donna Hay, Australia's go-to home cook, has a new collection of recipes out that will inspire you to eat more healthfully while sacrificing nothing in terms of flavor and aesthetics. Whether you're making yourself a casual lunch or masterminding an upscale dinner party, this is one book that will help ensure that everyone is nourished, satisfied and eager to know where you got the recipe. This shiny, laquered pork pairs beautifully with Asian greens and looks beautiful on a platter.
Ingredients
2

tablespoons

char siu or hoisin sauce

2

tablespoons

spicy black bean sauce

2

1/2-pound

pork fillets

vegetable oil, for brushing

2

bunches

choy sum, trimmed

2

tablespoons

oyster sauce

1

tablespoon

soy sauce

2

cloves

garlic, crushed

3

green onions (scallions), thinly sliced

1

teaspoon

sesame seeds, toasted
Directions
For the pork
Place the char siu and black bean sauces in a bowl and mix to combine. Preheat a char-grill pan or barbecue over high heat. Brush the pork with oil and cook, turning occasionally, for 15 minutes. Brush with the sauce mixture and cook for a further 1-2 minutes or until caramelized and cooked through.

Place the choy sum in a large saucepan of salted boiling water and cook for 4 minutes or until tender. Drain, transfer to a bowl, add the oyster sauce, soy sauce and garlic and toss to combine. Slice the pork and place on a serving plate with the choy sum. Sprinkle with the onion and sesame seeds to serve.