How To Make Spuntino's Salt Beef Slider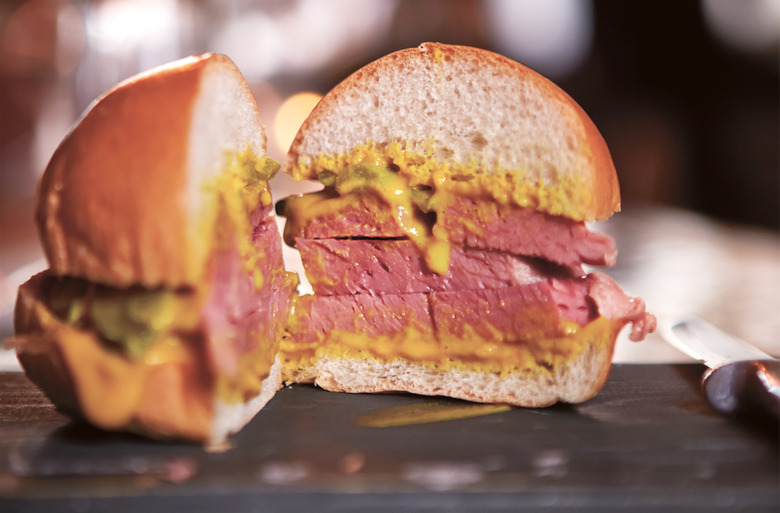 We may receive a commission on purchases made from links.
British chef Russell Norman has a longstanding affair with the cuisine of New York City — just pop into his Soho (London) diner and see for yourself, or pick up a copy of his new book, Spuntino: Comfort Food, named for the restaurant where it all happens. 
The lure of salt beef (U.K.) or corned beef (U.S.) has led me on some rather elaborate journeys in order to get my fix. In London there are relatively few old-school salt beef sandwich joints — an Oxford Street department store food hall, a Brick Lane bagel shop, an East London street market — whereas in New York you are fairly spoiled for choice. The crown of Corned Beef King is variously claimed by Katz's, Barney Greengrass, Second Avenue Deli and Carnegie Deli, to name just a few.
The classic salt beef sandwich, of course, consists of salted brisket cut thick, served between two slices of rye bread with pickle and mustard. Like all classics, you don't mess with the formula. At Spuntino, we simply put it in a slider bun.
How To Make Spuntino's Salt Beef Slider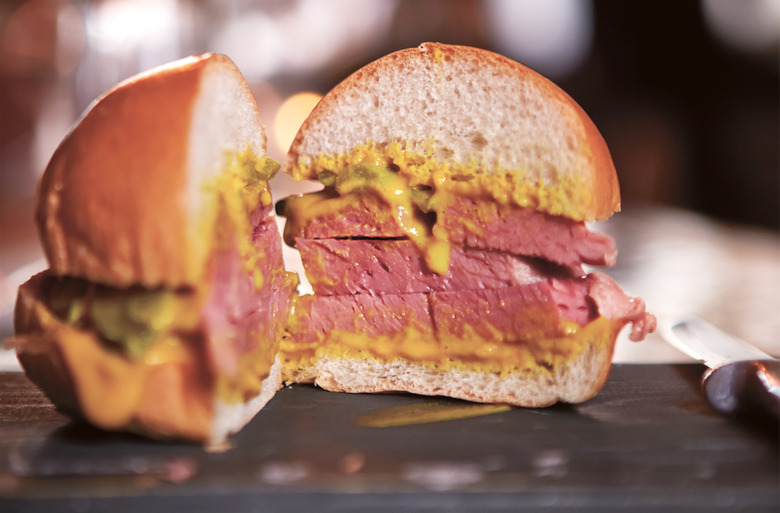 Ingredients
17 1/2 ounces salted brisket of beef
1/2 bottle white wine
2 bay leaves
6 black peppercorns
1 large onion
2 carrots
3 celery sticks
6 brioche buns
Colman's English mustard (or French's American Classic mustard if you prefer it less strong)
At least 4 large gherkins
Directions
Trim all sinew from the salt beef and most of the fat, and rinse under cold water. Place in a large pan, add the wine, bay leaves, peppercorns, onion, carrot and celery, and top up with enough cold water to cover the brisket. Make sure the meat is submerged completely. You can place a plate on top to keep it under the surface.
Bring to a boil and then reduce to a medium-low heat so that the liquid is just simmering. Cover and cook for about 3 hours, until the meat is just falling apart.
Carefully lift the brisket out of the pan and place it on a chopping board to rest for 15 minutes.
Split the brioche buns in half and generously spread some mustard on the bottom half. With a very sharp knife, divide the brisket into sixths. Place the salt beef chunks on the bottom brioche halves and top with a few slices of gherkin and some more mustard. Close the sliders and carefully push a wooden skewer through each one to help stabilize them. If you like, you can serve with extra pickles and more mustard on the side.