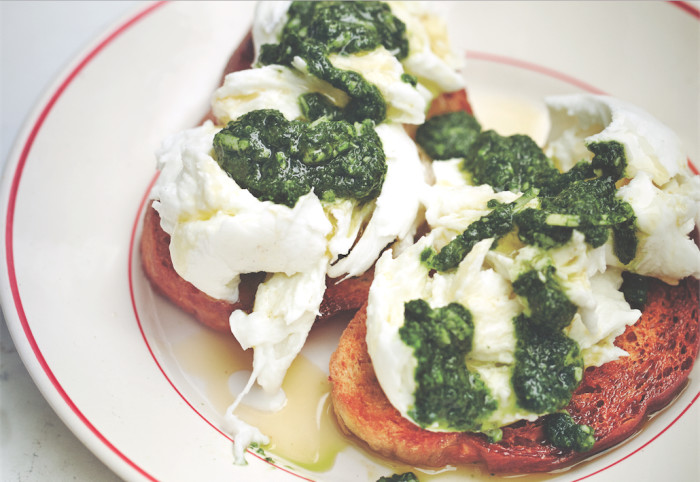 British chef Russell Norman has a longstanding affair with the cuisine of New York City — just pop into his Soho (London) diner and see for yourself, or pick up a copy of his new book, Spuntino: Comfort Food, named for the restaurant where it all happens. 
When it is in season, cavolo nero (kale) is one of my hero ingredients. Its deep, dark green color and its long crinkled leaves are incredibly glamorous, and it is surprisingly versatile. Florence Knight, one of my favorite chefs, picks the smallest, most delicate raw leaves and tosses them in a delightful anchovy dressing with bread fried in butter. Delicious. This recipe specifies a swift blanch; you really mustn't overcook the cavolo nero, otherwise it loses much of its flavor and many of its nutrients, too.
Ingredients
1

bunch of

cavolo nero, stems removed

3

garlic cloves

Good handful of

grated Parmesan

flaky sea salt and black pepper

extra-virgin olive oil

juice of 1 lemon

8

slices of

ciabatta

1/2

cup

balls of buffalo mozzarella, at room temperature
Directions
For the crostini
Place a pan of salted water over a high heat. Cut the cavolo nero into 1-inch strips. Once the water has come to a boil, add the cavolo nero and, when the water comes back to a boil, blanch for 2 minutes. Drain and, when cool enough to handle, squeeze out the excess liquid.

Transfer the cavolo nero to the small bowl of a food processor. Add two of the garlic cloves, the Parmesan and some salt and pepper, and whiz to a puree. With the motor still going, slowly add 2/3 cup of olive oil, then transfer to a mixing bowl and fold in the lemon juice.

Now place a heavy-based griddle pan over medium heat. Lightly coat the sliced bread with a few brushes of olive oil and grill on both sides until lightly charred. Halve the remaining garlic clove and rub over the hot grilled bread. Top with broken-up pieces of mozzarella and a generous amount of the cavolo nero puree. Serve immediately.