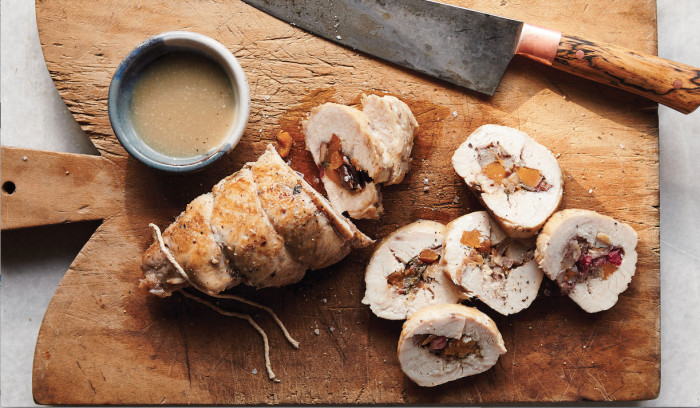 Hearty, rib-sticking food doesn't have to pack a day's worth of calories. Gina Homolka, author of the wildly popular blog Skinnytaste, has a new collection of hearty slow-cooker recipes out that pump up the flavor and nutrition and cut out the fillers. Best of all, you can set it and forget it!
These turkey tenderloins, stuffed with butternut squash, cranberries, and pears, are like a mini Thanksgiving feast — from your slow cooker! They're perfect any time of year when you're craving a taste of the holidays. They're also great for smaller Turkey Day gatherings, when a whole bird is too much. You and your guests will, um, gobble them up!
Ingredients
1/2

tablespoon

olive oil

1/3

cup

chopped shallots

2

garlic cloves, chopped

1

cup

butternut squash, chopped into 1/2-inch cubes

1/2

cup

fresh or frozen cranberries

2

tablespoons

pure maple syrup

1

small pear, peeled, cored and chopped

3/4

cup

chopped baby spinach

2

tablespoons

chopped pecans

3

fresh sage leaves, chopped

1 1/2

teaspoons

kosher salt

freshly ground black pepper

2

large boneless turkey tenderloins (1 1/2 pounds total)

Olive oil spray (such as Bertolli) or a mister
Gravy
1/4

cup

all-purpose flour (I like Bob's Red Mill)

2

teaspoons

chicken or turkey bouillon (I like Better Than Bouillon)

4

fresh sage leaves

2

bay leaves
Materials
8 12-inch pieces kitchen string
Directions
For the turkey
In a large skillet, heat the oil over medium-low heat. Add the shallots and garlic and cook, stirring, until golden, 4 to 5 minutes. Add the butternut squash, cranberries, maple syrup, and 1 tablespoon water. Cover, reduce the heat to low, and cook until tender, about 8 minutes. Remove the pan from the heat and stir in the pear, spinach, pecans, sage, 1⁄4 teaspoon of the salt, and pepper to taste.

Cut a slit into the sides of the tenderloins, being careful not to cut all the way through. Season the inside and outside of the tenderloins with the remaining 1 1⁄4 teaspoons salt and pepper to taste. Stuff each turkey breast with about 1 cup of the squash mixture. Tie each tenderloin closed with 4 pieces of kitchen string, cutting off the extra string.

Wipe the skillet clean and set it over medium-high heat. Spray with oil and carefully sear each turkey breast until browned, 2 to 3 minutes per side. Transfer to a slow cooker.

Cook on low for 2 hours or until cooked through. Remove from slow cooker, let rest for 10 minutes, then slice and serve.