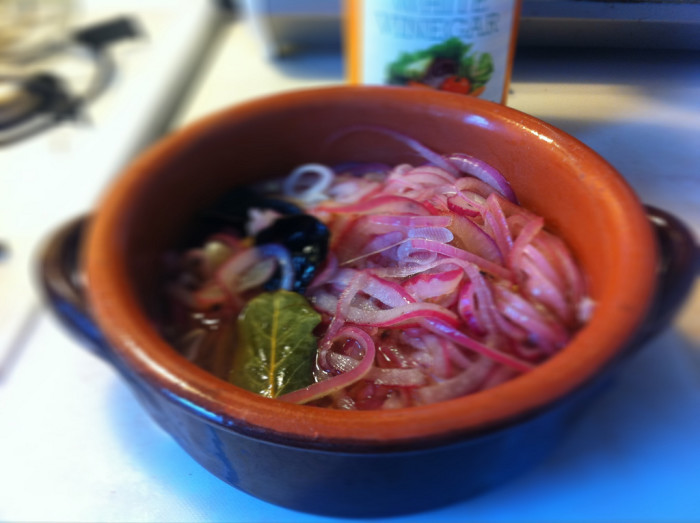 There's something really indulgent about homemade condiments. They certainly impress others and with a shelf life longer than leftovers, condiments are a homemade treat that can be enjoyed over time. Even if you've never pickled or preserved a fruit or vegetable in your life, you won't have any problem making these onions. They taste great in salads and are the perfect topping for burgers, pulled pork sandwiches, hot dogs, tacos and even steak fresh off the grill.
Ingredients
1

large

red onion, thinly sliced into half-moons

2

cups

apple cider vinegar

1

bay leaf

1

teaspoon

pickling spice

1/4

teaspoon

crushed red pepper flakes (optional)
Directions
Directions:
Bring 4 cups water to a boil in a small saucepan and add onion slices. Boil for 1 minute and drain. Transfer to a small glass or ceramic bowl.
Using the same saucepan, bring the apple cider vinegar and spices* just to a boil. Remove from heat and immediately pour over onions, covering them completely.
Cover bowl tightly with plastic wrap and set aside to cool for about 3 hours. Onions will last up to two weeks in the refrigerator if stored in an airtight container.
*Note: If you can't find pickling spice at your market substitute 1 teaspoon coriander seeds, 4 allspice berries, 1/2 teaspoon dill seed and 4 cloves.