How To Make Oven Fries That Don't Suck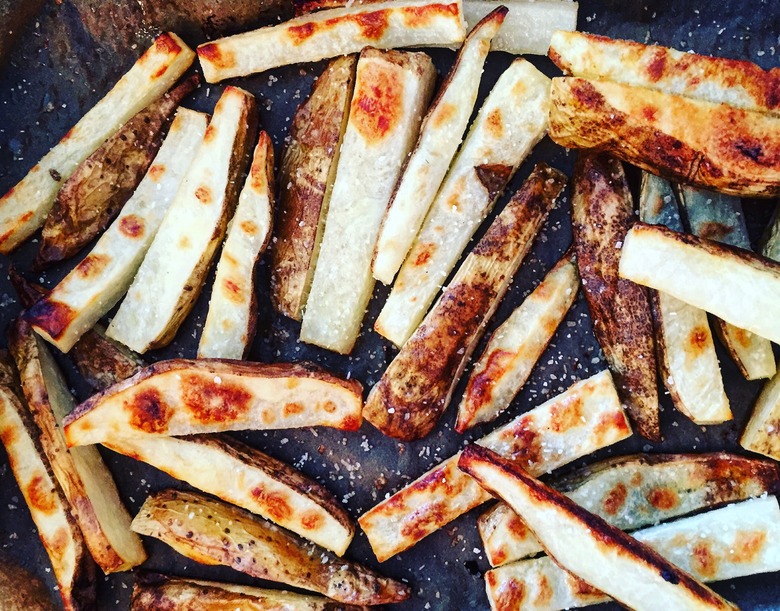 Crispy oven fries are entirely possible; you just need a few tips from a burger pr
We may receive a commission on purchases made from links.
Boston-based burger blogger, chef, recipe developer and cookbook author Richard Chudy is one of our culinary heroes. His impressive mastery of all things fried, cheesy and dippable has expanded to his recent book, American Burger Revival: Brazen Recipes to Electrify a Timeless Classic. Cowritten with chef-author Samuel Monsour, winner of Boston Magazine's "Best Burger" award, American Burger Revival is a collection of recipes, stories, techniques and crucial information for inspiring and building the greatest burger you could ever dream up. And now, some thoughts on oven fries, which can in fact be done well. 
Yeah, it's a big claim, but it is possible. Look, there are few finer things in life than a perfectly crispy and piping-hot french fry straight out of the fryer. But deep frying at home? It's a pain the ass, and we all know it. Especially with fries. You have to peel and cut and soak and blanch. My head hurts just thinking about it. It leaves your kitchen a mess, then you're stuck with used oil you never know what to do with. Enter the oven fry. We're not in it because it's healthier per se, but it certainly is far easier. And unlike other baked versus fried items (looking at you, chicken wings, spring rolls et al), these are damn close to the real thing, and in some respects, I'd argue even better. They will be as crispy as a chip if you let them, cleanup is a breeze and there is far less oil involved.
The big debate in our house is which kind of potato is best. Both russet and Yukon work just fine here. Russets will be a little more firm, while Yukons will be a tad creamier. Both will be crispy, so the choice is yours. Same goes for thickness; obviously a thicker-cut potato will take longer than a thin-cut one. Adjust the timing as needed.
How To Make Oven Fries That Don't Suck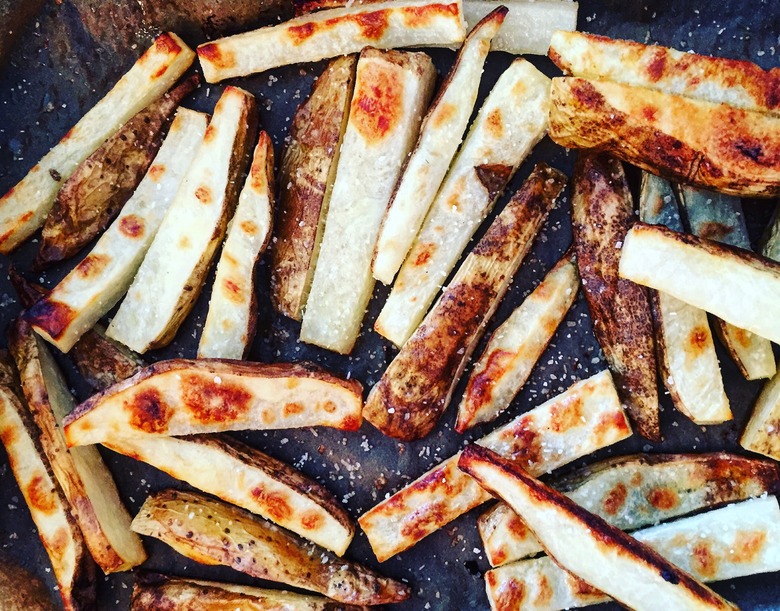 Ingredients
2 large potatoes
olive oil
kosher salt
parchment paper
Fresh rosemary (optional)
Directions
Preheat oven to 425 degrees with two baking sheets in it lined with parchment paper for about 20 minutes.
Meanwhile, cut the potatoes into the same size (see note above on sizes) and blot dry with paper towels.
Remove the baking sheets from the oven and drizzle with a little olive oil. Carefully add the potatoes in a single layer on each baking sheet, being careful not to crowd the baking sheets. You want the fries spread out without touching. Cook in multiple batches if necessary; otherwise you will end up steaming them, and they will not be very crispy. Drizzle the fries with another little bit of oil, just enough to lightly cover. Season with a good amount of salt — make it rain, my friends. Throw in some rosemary if you are using it, branches and all. It's really there just to perfume the potatoes.
Cook the potatoes, rotating the pans after ten minutes to cook evenly. Cook, undisturbed, until they are starting to brown on the surface. Don't try to flip or move them before that happens.
Once they start to brown, flip them and agitate the pan to move them around, but make sure they are back in one even layer on each baking sheet. Cook until they are crispy and golden brown on both sides. Total cooking time should be about 15-20 minutes for thinner fries, and 30-35 minutes for thicker-cut fries.
Remove from the oven and sprinkle with a little salt. Serve immediately. If they cool down too much, you can pop them back in for a few minutes to heat them up again. Try doing that with traditional deep-fried fries!