How To Make Lobster Gnocchi, The Ultimate Summer Pasta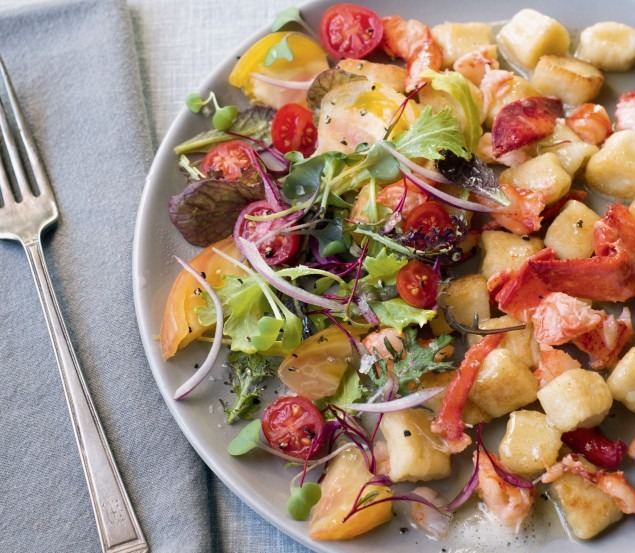 We may receive a commission on purchases made from links.
Best lobster roll in the city? Tough decision. New York slings a mean lobster roll. Among the meanest: Luke's Lobster, a delightful urban shack that holds true to its Maine roots. Real Maine Food, a new cookbook by Luke's Lobster owners Luke Holden and Ben Conniff, showcases recipes by the folks who invented this briny summer treat. Folks who know a thing or two about lobster gnocchi, a strong contender for Favorite Treat of the Summer.
We met Jeff Landry back when he was the chef and owner of the Farmer's Table, a restaurant on Commercial Street in Portland serving locally sourced food. Since then, Landry has taken his expertise from the kitchen direct to the farmers and fishermen themselves, working to distribute their goods to other like-minded restaurants and to convert those restaurants that still import food unnecessarily. Gnocchi is Landry's favorite lobster dish, and he recommends starting a day ahead of time, as the gnocchi actually turn out best if you make them, freeze them, then cook them from the frozen state.
How To Make Lobster Gnocchi, The Ultimate Summer Pasta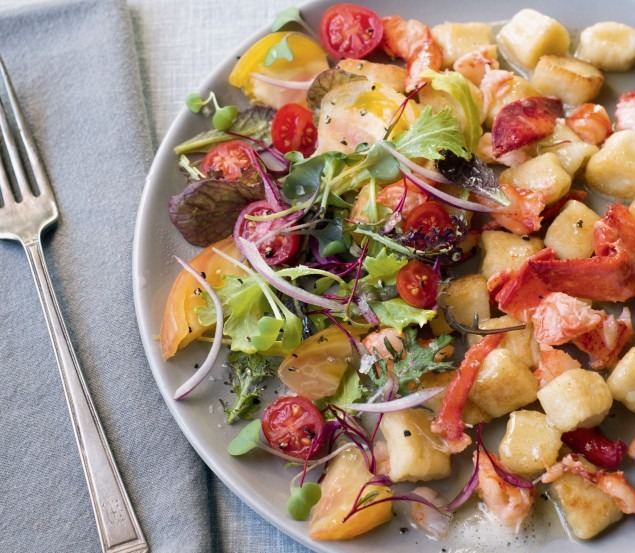 Ingredients
1 pound large, high-starch potatoes
2 cups all-purpose flour
Zest of 2 lemons
1 tablespoon red wine vinegar
1 teaspoon Dijon mustard
1 teaspoon minced shallots
Salt and freshly ground black pepper
2 1/2 tablespoons extra-virgin olive oil
4 steamed lobsters
fine sea salt
1 cup (2 sticks) unsalted butter
freshly ground black pepper
2 cups salad greens
3 cups julienned or bite-size pieces assorted summer vegetables
Directions
:::gnocchi:::
Place the potatoes in a saucepan and add enough water to cover. Bring the water to a boil and cook the potatoes until a knife pierces them easily. Drain and let cool for 10 minutes. Carefully remove skins; the potatoes will still be hot.
Pass the potatoes through a food mill or potato ricer into a large bowl. If you don't have a food mill or ricer, place the potatoes in a large bowl and use a potato masher to mash as smoothly as possible. Do not use an electric mixer, as this will cause the potatoes to get starchy and gluey.
Add the flour and zest to the bowl and begin to incorporate the mixture by hand. Using as little mixing as possible, combine the ingredients and lightly knead. Cut off medium pieces and roll them into ½-inch-diameter ropes on a well-floured surface. Using a sharp knife or dough cutter, cut each rope into ½-inch pieces. Line a pan that will fit in your freezer with waxed paper or parchment paper and put the pieces on the pan. If the gnocchi seem too sticky, use a little more flour. Place the pan in the freezer until the gnocchi are thoroughly frozen. This step can be done up to 3 days in advance.
:::dressing:::
In a small bowl, whisk together the vinegar, mustard, shallots, and salt and pepper to taste. Add the oil in a slow stream, whisking continuously, until the dressing is emulsified. The dressing can be made in advance and refrigerated, but should be served at room temperature.
:::assembly:::
Bring a large pot of salted water to a boil. In a large cast-iron pan, melt the butter over medium-high heat. Drop the gnocchi into the boiling water (no need to thaw). When they float to the top, cook for 1 minute more. Using a slotted spoon or spider, gently transfer the gnocchi to the pan of melted butter to brown lightly. Add the lobster meat to heat through and season with salt and pepper. The butter should have taken on a brown, not black or light golden, color and smell nutty.
Divide the gnocchi and lobster among four plates or shallow bowls. In a large bowl, mix the greens and vegetables thoroughly with the vinaigrette and top each dish with this salad. Serve immediately.