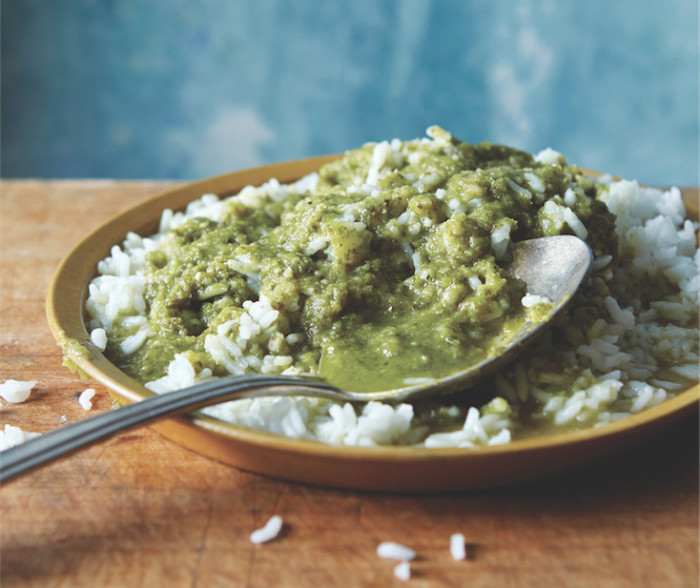 If you want to get your greens, try this healthy mole pipian, which is packed with herbs and vegetables. Like all moles, the sauce itself is the meal, and everything else is just garnish. I adapted this recipe from one of Diana Kennedy's early books for use in my restaurant, where we served the pipian in a whole roasted squash stuffed with roasted root vegetables, shredded pork, and some queso fresco; the dish is also excellent with chicken—or with no meat at all.
This green mole is thickened with ground pumpkin seeds and sesame seeds. The body of the mole is made from pureed greens, so it has a slightly coarser texture than mole verde, with a more complex flavor and a bit of heat. For best flavor, I recommend that you serve this mole immediately after it is made.
Ingredients
Step 1
3/4

cup

raw sesame seeds

5

whole cloves

1/2

teaspoon

whole black peppercorns

1/2

teaspoon

coriander seeds or 4 allspice berries

1

teaspoon

cumin seeds

1/2

cup

raw pepitas
Step 2
2

large poblano chiles

1

cup

light chicken stock

5

medium tomatillos, husked, washed and dried

3

large cloves garlic

4 to 6

serrano chiles or 2 to 3 jalapeno chiles, stemmed and chopped (leave the seeds in for a spicier mole)

1

bunch

kale, stemmed and finely shredded

1

bunch

spinach, stemmed and finely shredded

1/2

bunch

flat-leaf parsley, stemmed and roughly chopped

1/2

bunch

fresh epazote (about 12 sprigs), stemmed and shredded
Step 3
1/3

cup

fresh lard or vegetable oil

2

cups

light chicken stock

1

tablespoon

salt
Directions
As noted, the pipian is great with roasted vegetables (such as yam, potato, chayote, onion, and squash), pork carnitas, or roasted chicken or turkey.
Fry the sesame seeds and spices.
Heat a heavy skillet over medium-low heat. Add the sesame seeds and toast, stirring, until golden. Pour onto a plate to cool completely, then grind into a smooth paste in a spice grinder, which may take several minutes. Scrape into a small bowl.
Add the cloves, peppercorns, coriander seeds, and cumin seeds to the skillet and toast over medium-low heat, stirring, for 1 minute, being careful not to burn them. Place in the spice grinder and grind to a fine texture, which may take sev­eral minutes, scraping down the sides often. Add to the bowl with the sesame seeds.
Place the raw pepitas in the spice grinder and grind to a very fine texture or paste, which may take several minutes, scraping down the sides often. Add to the sesame seeds.
Roast the chiles and greens.
Roast the poblano chiles, either directly on a gas burner or under a hot broiler, until the skin is charred and blackened. Let cool, rub off the skin with a paper towel, and remove the seeds and stem. Tear into small pieces and place in a blender along with the chicken stock. Cut the tomatillos into quarters and add to the blender along with the garlic and serranos. Puree completely.
Place the shredded greens and herbs in a food processor (in batches, if necessary) and run the machine until the greens are well broken down. Add the chopped greens to the blender and run until the mixture is very smooth and bright green.
Fry the mole.
Heat the lard in a deep, heavy 4-quart pot or Dutch oven over medium-low heat. Add the sesame-seed mixture and cook slowly, stirring constantly, until fragrant and golden brown, being very careful not to burn the paste.
Add the contents of the blender all at once. It will splatter, so use a splatter screen. Cook for 5 minutes, stirring constantly. Turn off the heat and stir in the chicken stock and the salt. The flavor will change as the mole cools and thickens, so taste and adjust the seasoning as desired after 30 minutes.
Note: For a smoother texture, the sauce can be reblended when cooled. Taste and adjust the seasoning as desired afterward.
More Mexican recipes on Food Republic: