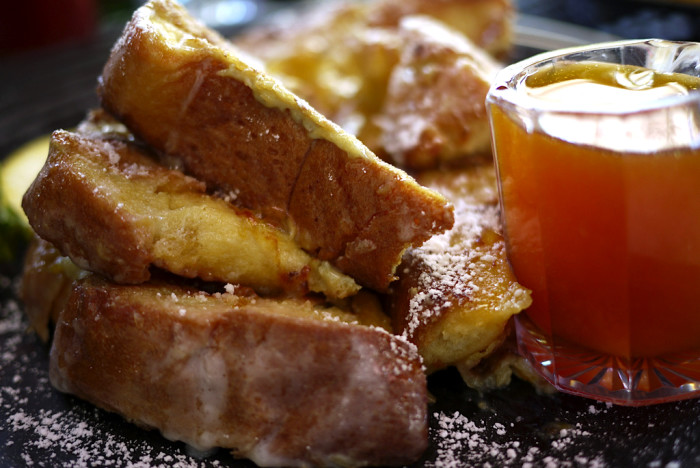 Food historians are still not clear whether French Toast is indeed French or if another nation deserves credit for this sweet, eggy delight. Either way, this brilliant rescue of stale bread has kept this moniker and lives on as a breakfast favorite. Typical accompaniments are butter and syrup, but these warm, fluffy slices of goodness can be filled with fruit compote (or stuffed with chocolate and marshmallows. We're not judging, we're just hungry).
The process is simple and the results are divine. Fire up the griddle and turn your stale bread into French Toast.
Ingredients
2

cups

milk, or half and half

4

eggs

1

tablespoon

sugar, or honey

1

pinch

cinnamon

1

pinch

salt

8

slices

day-old challah

butter or vegetable oil, for coating your pan
Directions
In a shallow bowl or baking dish combine all of the ingredients except the bread, and whisk until evenly combined and smooth.
Heat a griddle, or non-stick pan over medium heat and add butter or a vegetable oil to lightly coat.
Dip the stale bread into the batter, coating all sides.  Add the bread to the pan and fry on both sides until evenly browned and serve. *French toast gets soggy fairly quickly, so it's best served ASAP.
A few options for accompaniments: butter, warm syrup, chopped nuts, nutella, chocolate sauce, caramel sauce, whipped cream, fresh fruit, fruit compote or powdered sugar