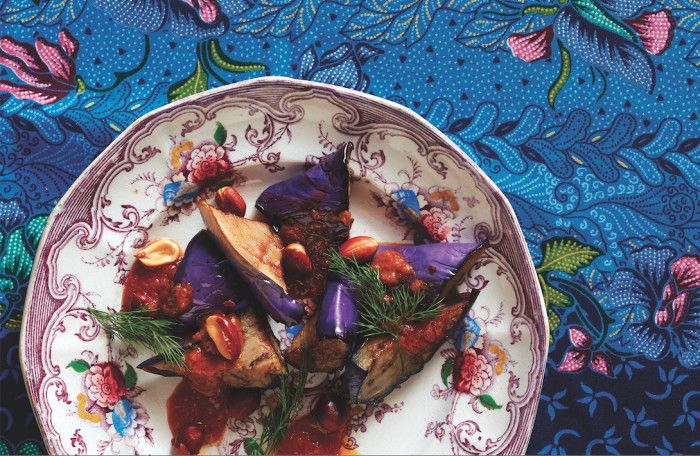 Join Chicago chefs Abraham Conlon and Adrienne Lo on a journey to discover the vibrant culinary culture of Macau. Their Chicago-based Macanese restaurant, Fat Rice, draws a crowd that craves this particular style of Portuguese-influenced Asian cuisine, and with their new cookbook, you can try it at home. Brinjal sambal eggplant is the savory, spicy, velvety vegetable dish your bowl of rice has been dreaming of. 

If you don't like eggplant, it's because you haven't had it done right! Our dry-frying technique breaks down the rawness of the eggplant and allows the flavors of this sweet-and-sour bath to penetrate. This gives the eggplant an unctuous quality not unlike deliciously melting pork fat. This adaptation is inspired by a version we had in Singapore and is a great room-temperature appetizer that can be made ahead of time and served with other pickles and achar before the meal. It's sweet and sour with spicy notes and greasy in a good way, and even if you hate eggplant, you'll love it.

We add roasted peanuts at the end for crunch.
Ingredients
3/4

cup

Filipino cane vinegar

1/2

cup

sugar

1

1-inch piece fresh ginger

peeled and minced

2

lime leaves

1

teaspoon

salt

1/2

teaspoon

ground turmeric

2

tablespoons

Tamarind extract

1 1/2

cups

water

peanut oil, for deep-frying

2

pounds (4 large)

Chinese eggplant, cut into pyramids

3

tablespoons

Sambal Tumis
Optional Garnishes
Handful

fisheye-cut green onions

1

teaspoon

toasted sesame seeds

Handful

roasted peanuts

Handful

pickled fresh dill leaves
Directions
For the eggplant
Combine the vinegar, sugar, ginger, lime leaves, salt, turmeric, tamarind, and water in a medium pot and bring to a boil. Remove from the heat and set aside in a warm place.

Prepare the wok for deep-frying and heat the oil to 400°F. Working in small batches to maintain the oil temperature, fry the eggplant for 30 to 45 seconds per batch, just until the flesh turns golden brown and the purple skin becomes vibrant. Remove the eggplant from the oil with a spider, let excess oil drain off, and place directly into the vinegar mixture. Repeat this process until all of the eggplant has been cooked.

After the eggplant has soaked for about 20 minutes, remove from the vinegar mixture (discard the mixture) and arrange on a plate. Top with the sambal and garnishes and serve immediately.