How To Make Easy Thai Basil Chicken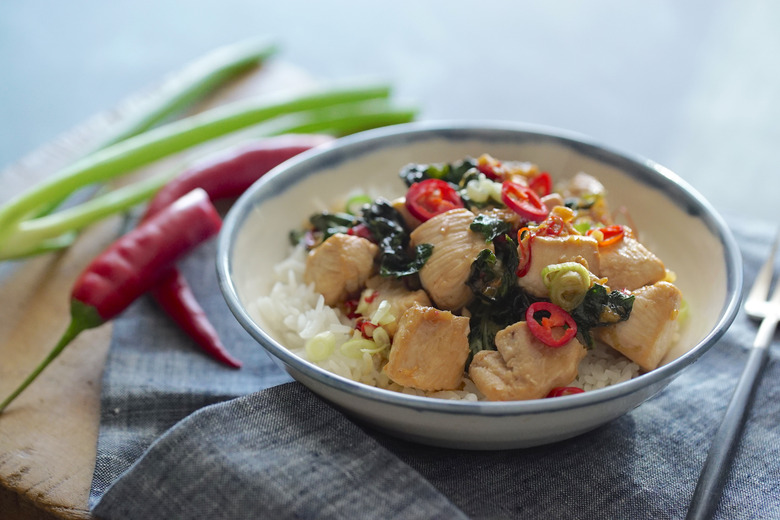 Rather than order Thai basil chicken, one of the most popular dishes on the takeout menu, why not make it at home?
It's as easy as adding ingredients to a pan in the right order. Lay out all your ingredients and get the rice cooking before you start, as this dish comes together very quickly. With a little order of operations (and some stirring) you'll have a delicious, healthy dinner on the table in about 30 minutes.
You can save a little extra time by using pre-chopped garlic and ginger in jars, but it's always better to spend a couple of minutes doing it yourself. As for the spice level, I used a deseeded fresh cayenne pepper to produce a dish of medium heat.
How To Make Easy Thai Basil Chicken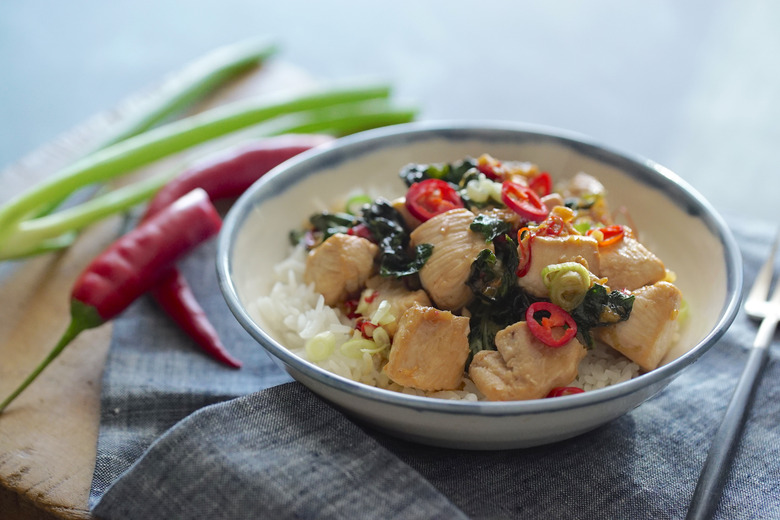 Ingredients
1 tablespoon vegetable oil
2 cloves garlic
1 1 1/2-inch piece fresh ginger root
1 scallion, white and light green parts only,
1 large red chili
1 large strip orange zest
2 medium chicken breasts
1 tablespoon oyster sauce (found in the international aisle or Asian market)
1 tablespoon soy sauce
1/2 teaspoon granulated sugar
10-12 whole basil leaves
jasmine rice
Directions
Heat the vegetable oil in a large skillet over medium heat until shimmering, then add the garlic, ginger and scallion and stir-fry until fragrant (about two minutes).
Add the chilies and orange zest and cook for another minute, then add the soy sauce, oyster sauce and sugar and cook for 30 more seconds.
Add the chicken, turn the heat up slightly and stir-fry until just cooked through.
Add the basil leaves to the skillet, stir a few times to coat them with the sauce and wilt slightly, then remove the orange zest and plate the chicken over two bowls of jasmine rice.
Garnish with the dark green part of the chopped scallion and a few sliced chilies if you like.