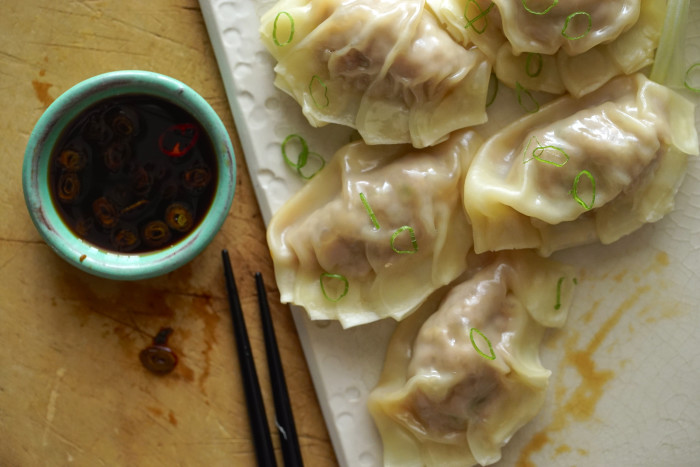 The day before the last Food Republic Test Kitchen, I saw the triple-tiered bamboo steamer in use at our studio. The next day, as I prepared to make dumplings, it was nowhere to be found. Thankfully, I also don't have a steamer at home. Well, it's not thankful I don't have a steamer; I need to get one of those! But I've been using this simple aluminum foil and ceramic plate hack since college to mass-produce delicious homemade food for my friends.
You can have fresh, steaming hot pork and scallion dumplings on the table in 45 minutes — even less if someone's helping you fold them! Dumpling making is a great hands-on activity for a dinner party's first course that incorporates your guests' cooking skills at any level.
Ingredients
Dipping sauce
2

tablespoons

soy sauce

1

tablespoon

rice vinegar

1/2

teaspoon

granulated sugar

1/2

teaspoon

finely grated ginger root

1

small clove

garlic, minced

sriracha or chili garlic sauce, to taste (optional)
Filling
1

pound

fatty ground pork

1 1/2

tablespoons

freshly grated ginger root

3

cloves

garlic, minced

2

scallions, trimmed and very finely sliced

3

tablespoons

soy sauce (low-sodium if you prefer)

1

tablespoon

toasted sesame oil, plus more for oiling the plates

2

tablespoons

Chinese rice wine
Dumplings
1

pack

dumpling wrappers

1

large

egg, beaten well with 1 tablespoon of water
Directions
For the dipping sauce
Combine all dipping sauce ingredients in a small pot.

Bring to a simmer, then allow to cool before transferring to a small bowl and serving.
For the filling
In a large bowl, combine the ground pork with the ginger, garlic, scallions, soy sauce, sesame oil and rice wine using your hands.

Place a heaped tablespoon of filling in the center of a dumpling skin.

Dip your finger into the egg wash, then trace around the edge of the dumpling skin.

Pinch it closed.

Create a crimp along the edge using the "fold and pinch" method until you have 4-5 crimps.

Set aside on a plate and repeat until all the filling has been used up.

Make three large balls of aluminum foil.

They don't have to be tightly packed, but they should all be relatively the same size and shape.

Place the balls in a large pot and lay a ceramic plate on top to make sure it's fairly level.

Add a few inches of water, bring to a boil, then lower to a medium simmer.

Rub a little sesame oil on the plate, then place as many dumplings as will fit on top (without crowding).

Gently lower the plate onto the foil balls, then cover pot with a lid.

Let steam for 7-8 minutes or until cooked through. Don't overcook, or your dumplings will be stiff and soggy.

Be careful when removing the plate from the pot — it'll be very hot!

Slide the dumplings onto a serving platter and repeat using the uncooked dumplings until they're all ready.

Serve with dipping sauce.