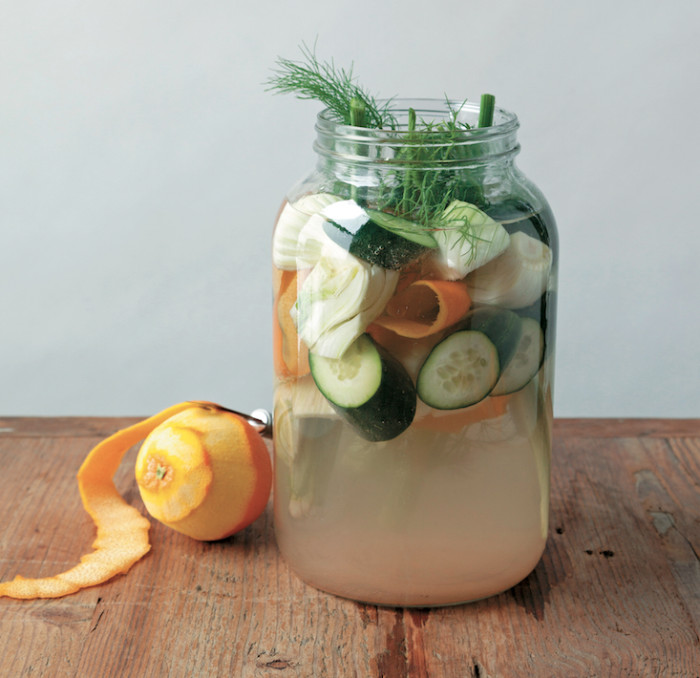 It's a book title and more than a suggestion: Ferment Your Vegetables, by blogger and author Amanda Feifer, is one of our favorite back-to-basics guides on all things pickled, fermented and cured. If you've got cabbage just itching to become something more, cucumbers that yearn for a brighter, tarter future, or any other vegetable just bursting with sour potential, this is the book for you. 

Although fermented vegetable drinks may not be the preferred option for ladies who lunch, I believe this is an option that could tempt even the most elegant and choosy of the spa-going set. The fennel dominates and is rounded out by the fresh cucumber notes. This is one I have no problem serving at a summer tea party.
Ingredients
1

large cucumber

1

fennel bulb, with fronds

Peel of 1/2 an orange, no pith

3

quarts

filtered water

1

teaspoon

salt (optional)
Directions
For the kvass
Cut the cucumber into 1-inch (2.5 cm) thick slices. Chop the fennel bulb into large chunks and separate each frond from the bulb. When peeling the orange, cut strips that are as long as possible; avoid pith as it will impart an unpleasantly bitter aftertaste. Place the cucumber, fennel, and orange peel in a 1-gallon (4 L) jar and pour the filtered water in until the jar is full to 2 inches (5 cm) below the rim or fill
all the way to the rim and place in a bowl for the duration of the fermentation period. Cover your jar, making sure it can vent CO2, and leave to ferment at room temperature for 5 to 10 days.

Once it tastes sufficiently flavorful and acidic, strain the liquid into a clean jar and chill before drinking.