How To Make A Thanksgiving Leftover Turkey Cheesesteak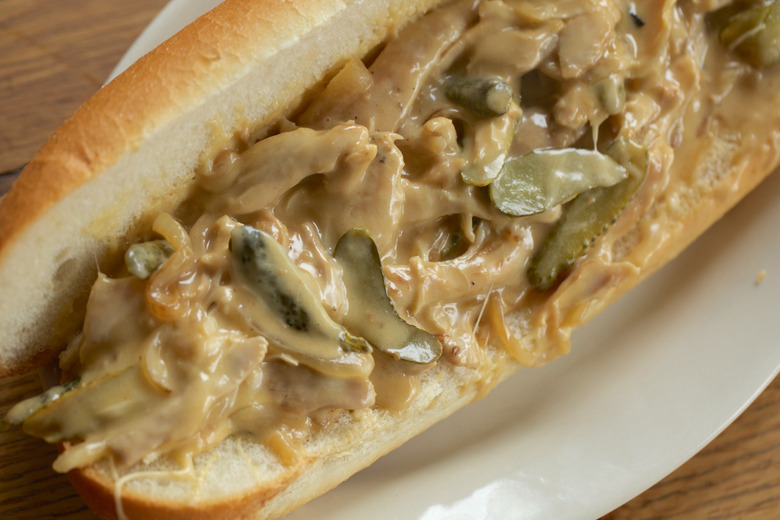 The Thanksgiving leftovers sandwich is a time-honored tradition, but sometimes you don't have all the fixins left for you the next day, so you just end up with a plain old turkey sandwich. But not this time. This time, you have a new plan. Basically all you need is leftover turkey and gravy — and some of those little pickles that people love to put out apparently just for me to eat handfuls of — and you've got the makings of an epic sandwich. This beast is part cheesesteak, part poutine, part Thanksgiving and entirely awesome. Is there a lot of cheese on it? Yeah, but it wouldn't be the CheeseThanks if there wasn't.
How To Make A Thanksgiving Leftover Turkey Cheesesteak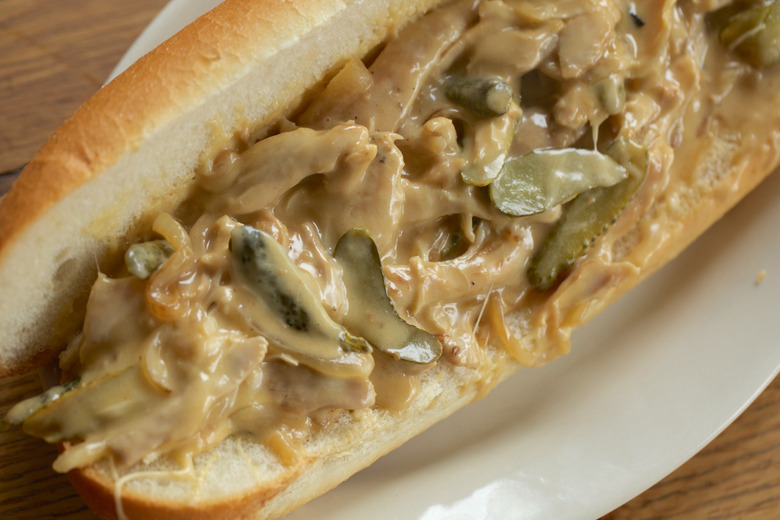 Ingredients
4 soft hoagie rolls
2 cups leftover turkey (preferably dark meat)
1 large sweet onion
1 cup cornichons
1 cup leftover turkey gravy
8 slices yellow American cheese
8 slices sharp provolone
1 teaspoon butter
Directions
Slice cornichons lengthwise into quarters.
Slice onions into strings.
Shred turkey into strips with your hands.
Heat a skillet over medium heat with butter.
Add the onions and cover.
Cook for 10-15 minutes, stirring occasionally, until translucent and turning brown at the edges.
Toast rolls in a 375-degree oven until just crispy around the edges.
Add cornichons, turkey and gravy to the pan with the onions, toss everything together and let heat through for 2-3 minutes.
Turn heat to low, top with the cheese and cover to melt it (2 slices of each per sandwich; yeah, that's how we're doing this).
Once melted, mix cheese in.
Immediately ladle turkey mix onto rolls.
Make sure you've got some napkins handy.