How To Make A Sri Lankan Egg Hopper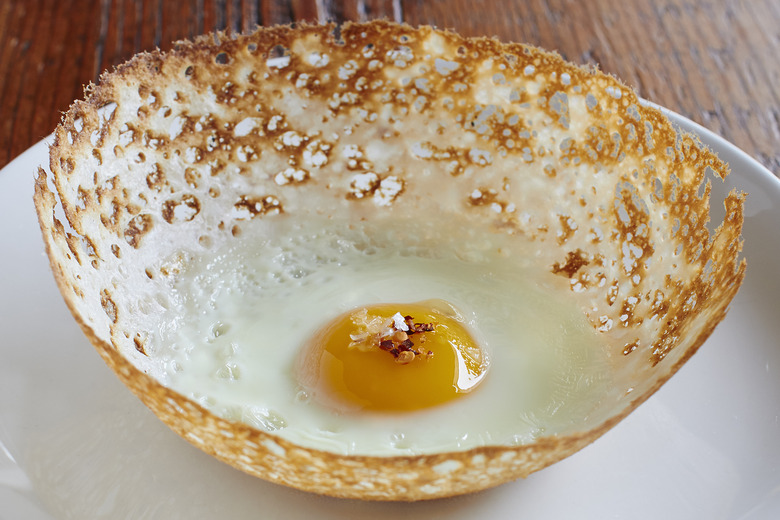 The Sri Lankan specialty known as hopper is like a rice and coconut cre
We may receive a commission on purchases made from links.
1601 Bar & Kitchen is the only Sri Lankan culinary destination in the Bay Area, and since opening a few years back, it has earned critical acclaim and a devoted following. The restaurant is owned and run by chef Brian Fernando, with offerings that spotlight the flavors that helped to shape his palate as a child (his father is Sri Lankan). The result of this is a truly personalized cuisine, where time-honored family dishes live alongside more traditional preparations and street-food throwbacks, like the egg hopper. Hoppers are considered a staple of Sri Lankan cuisine and can come in many forms. 1601 Bar & Kitchen specializes in an egg hopper, which is much like a savory crepe with a soft boiled egg in the middle. It's served with caramelized onions, toasted coconut meat and Sri Lankan spices, and diners are encouraged to eat it like a taco.
The batter is rather simple but, unfortunately, useless without a proper hopper pan. We get ours directly from Sri Lanka, but they are also available online. 
How To Make A Sri Lankan Egg Hopper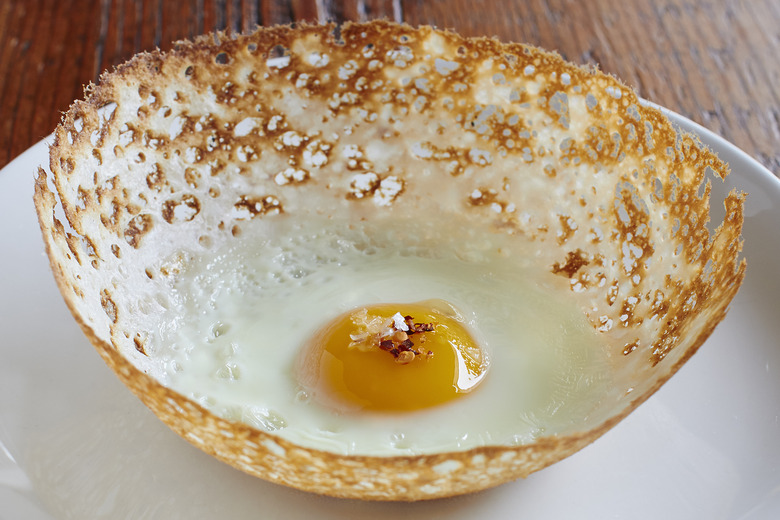 Ingredients
2 cups rice flour
1/2 cup granulated sugar
1 1/2 cups coconut milk
3/4 cup water
1 tablespoon dry active yeast
1 1/2 teaspoons warm water
1 teaspoon sugar
3/4 cup cooked basmati rice
1 1/2 cups coconut milk
fresh eggs
Directions
Combine the first four ingredients (flour, sugar, coconut milk and water) in a large mixing bowl and set aside. In a separate container, proof the yeast in the warm-water sugar mixture until it triples in volume, about 10 minutes.
Blend the rice and remaining coconut milk in a commercial blender at high speed to form a thick paste. Combine the yeast mixture and contents from the blender with the other ingredients. Using a whisk, stir until no lumps of flour remain. Place in an oven with the pilot light on for about three hours. The mixture should double in size.
Heat hopper pan over medium-high heat. Swirl batter in the pan and crack an egg in the middle. Cover and let cook for 2 or 3 minutes. Loosen hopper with a knife and serve.