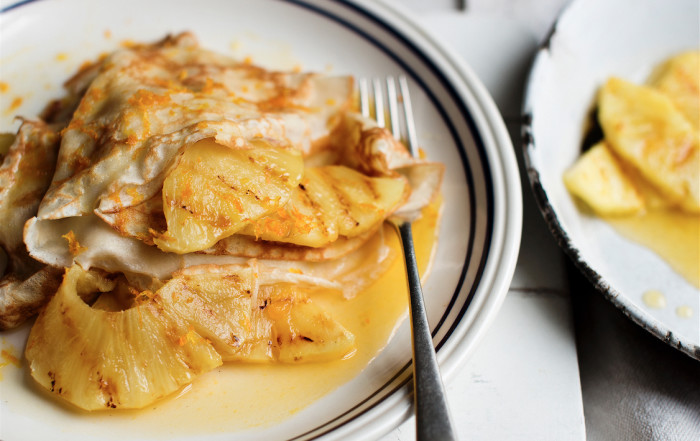 If you're going to make a foray into the art of French patisserie, you're going to need help from a very experienced, classically trained pastry chef with a killer blog. Baking master Edd Kimber's book, Patisserie Made Simple, is the next best thing to having your very own culinary tutor, so pick up a copy and some flour and get ready to spin French crepes. 
Crêpes suzette might be the classic crepe dessert, but these fine pancakes are also served with many other toppings and fillings, from sweet to savory. They can make a great street-food snack as well a wonderful end to a meal. My dessert takes the idea of a crêpe Suzette but uses caramelized pineapple to give a tropical twist.
Tip: You can make the batter up to one day ahead, or the crepes can be kept wrapped in plastic wrap in the refrigerator for three days.
Ingredients
Caramelized pineapple
1

large pineapple

Scant 1

cup

orange juice

1/2

cup

superfine sugar

1

star anise

4

teaspoons

unsalted butter

vanilla ice cream, to serve (optional)
Batter
1

cup plus 2 tablespoons

all-purpose flour

2

tablespoons

superfine sugar

1/4

teaspoon

salt

2

extra-large eggs

1 1/4

cups

unsalted butter, melted

sunflower oil, for greasing
Directions
For the crêpes
To make the caramelized pineapple, cut the top and bottom off the pineapple and cut away the skin, making sure to remove the "eyes." Cut the pineapple in half and cut out the core, then cut into slices, to make crescent-shaped pieces.

Put the orange juice, superfine sugar, and star anise in a medium pan, and bring to a boil over medium heat. Remove from the heat and pour into a shallow container, add the pineapple, then put it in the refrigerator to marinate for at least 2 hours or up to 8 hours.

Heat a large skillet over medium heat and add the butter. When the pan is hot and the butter is bubbling, add the pineapple pieces in one layer (you will most likely have to do this in at least two batches, depending on the size of your pan). Cook on each side until the pineapple just starts to brown. Once all the pineapple has been caramelized, put it on a plate and set it aside. Pour the orange marinade into the pan and cook over medium heat until it has reduced and is syrupy. Return all the fruit to the pan and remove from the heat, then set it aside until ready to use.

To make the batter, put the flour, sugar, and salt in a medium bowl and beat together to combine. In a pitcher, lightly beat the eggs, milk, and butter together, then pour it into the flour mixture, beating until you have a smooth batter. Cover the bowl and put it in the refrigerator for at least 30 minutes before cooking.

When ready to serve, heat a 10-inch skillet over medium heat until hot. Wipe with a piece of oiled paper towel. Pour in one ladleful of batter and turn the pan so that the entire bottom is covered in a thin layer. If the pan is hot enough, the crepe should be cooked underneath within 30 to 40 seconds. Once the underside is a beautiful golden color, carefully flip it over and cook for another 10 to 15 seconds until golden on the second side. Slide the crepe onto a plate and keep it warm while you repeat until all of the batter has been used. (Don't worry if your first crepe isn't perfect — this almost always happens to me, and it just becomes the chef's treat to test whether I've made the batter correctly, of course!)

To serve, fold the crepes into quarters and serve two per person with the warm caramelized pineapple and a scoop of vanilla ice cream, if you like.