How Appetizing! Make This "Fig And Pig" Crostini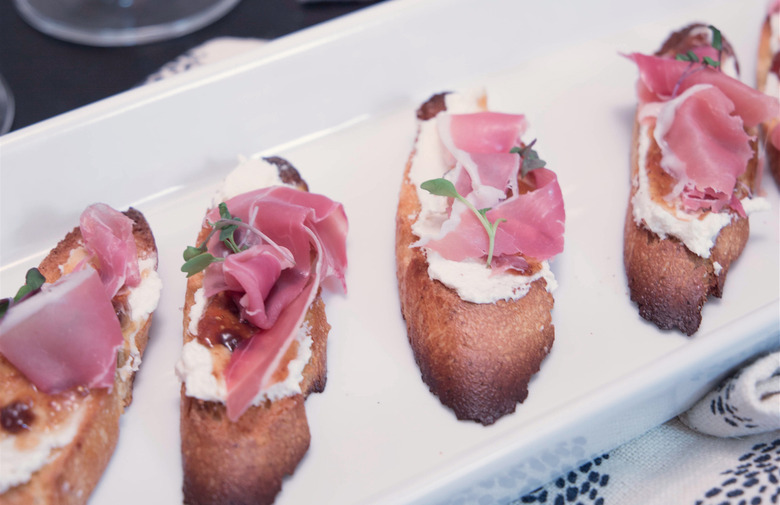 Every host needs an arsenal of quick and easy, but totally impressive recipes. The type of recipe that looks as though it took hours of hard work, but was in truth ready to go in a matter of minutes.
This "Fig and Pig" crostini is just that. A simple goat cheese spread is whipped up while the bread is in the oven crisping, and the crostini is built by simply layering the spread, fig jam, prosciutto and greens on top of one another. Since the crostini is so simple, it's important to use the best ingredients you can get your hands on. Goat cheese from a local farm, high-quality fig jam and freshly cut prosciutto will go a long way in this appetizer.
The creamy, luscious goat cheese spread, salty prosciutto and sophisticatedly sweet fig jam are rounded out perfectly by a red wine with an elegant fruit profile, such as Prophecy Pinot Noir.
Figs are still in season through the end of October in many parts of the country — if you can find them, slice them in half and serve alongside the crostini for a stunning display.
How Appetizing! Make This "Fig And Pig" Crostini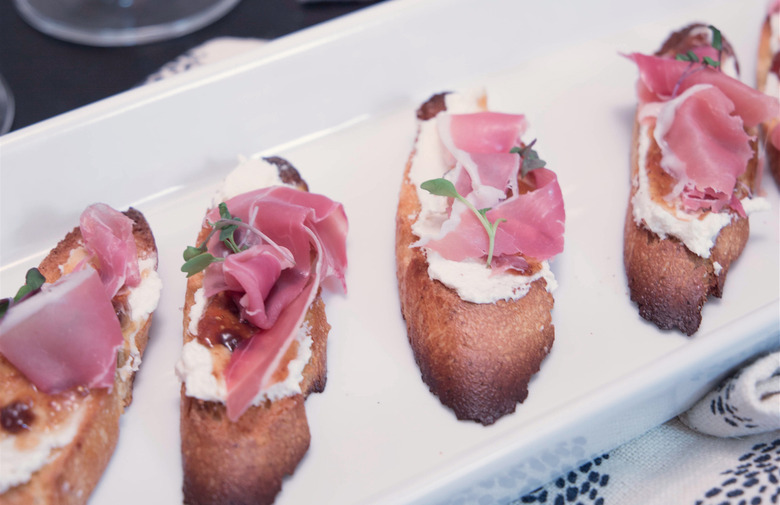 Ingredients
1 baguette
1 tablespoon extra-virgin olive oil
1/3 cup goat cheese
2 tablespoons mayonnaise
1 teaspoon Dijon mustard
1/4 teaspoon salt
3 tablespoons fig jam
4 ounces prosciutto
2 tablespoons microgreens (or slivers of fresh basil)
Directions
Preheat oven to 400°. Thinly slice baguette diagonally to create about 20 crostini. Arrange in rows on a baking sheet and drizzle lightly with olive oil. Place in the oven and bake for 7-10 minutes until golden brown.
Meanwhile, add goat cheese, mayonnaise, mustard and salt to a medium bowl. Using a fork, combine all ingredients until smooth.
Allow crostini to cool. Evenly distribute goat cheese mixture over each crostini. Evenly distribute fig jam over the goat cheese. Carefully tear the prosciutto into ribbons and evenly distribute atop the jam. Garnish with microgreens.
Crostini can be made ahead of time and stored at room temperature in an airtight container. Goat cheese spread can be made ahead of time and stored in the refrigerator in an airtight container. Allow to sit at room temperature for 15 minutes before spreading.