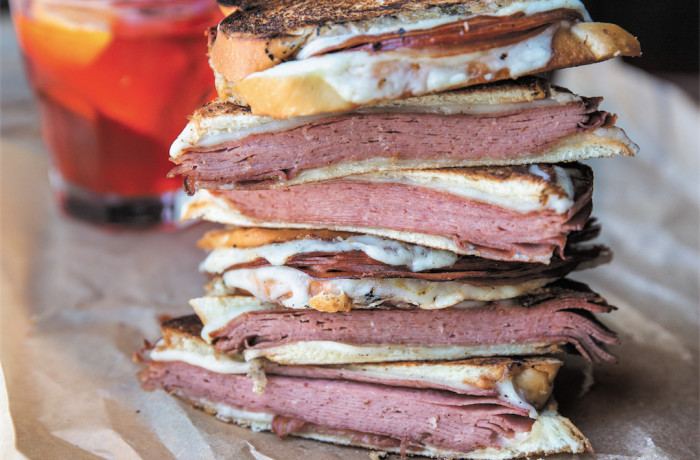 Anya Fernald is cofounder and CEO of the Belcampo Meat Co., the world's largest sustainable meat company. Inspired by the Italian peasant cuisine known as cucina povera, Fernald's new collection of recipes, Home Cooked, is as simple, hearty and delicious as it gets, featuring rich soups, flavorful stocks, creamy polenta, rib-sticking pasta and a vibrant array of appetizers, vegetables and sides.

I first tried fried mortadella sandwiches not in Italy but on a sweltering day in São Paulo, Brazil. I was on the second floor of a massive marketplace near the center of town in a food court that had six separate restaurants, each serving the same thing on the menu: sanduíche de mortadela. The sandwich was irresistible: soft bread crisped on the grill, about an inch of thin-cut griddled mortadella, and a layer of gooey cheese.

Frying the mortadella stacks is crucial to this recipe. The meat crisps irresistibly on its edges, and the small amount of fat that renders out of the mortadella is the perfect medium for toasting the bread, which absorbs the porky flavor. Though some specialty shops sell slices of massive mortadella (in Italy they are made up to a foot in diameter), for this recipe you want slices that are less than 5 inches in diameter. When serving the sandwiches as a starter, I cut them into quarters for an excellent handheld snack. Not surprisingly, the salty sandwiches are great with cocktails.
Ingredients
28

thin slices

mortadella, no more than 5 inches in diameter

8

thin slices

brioche or challah

8

slices

provolone

salted butter, for frying
Directions
For the sandwich
Arrange the sliced mortadella into four even stacks of seven slices each. In a dry cast-iron or heavy frying pan over medium heat, fry the mortadella stacks, turning once, until sizzled and brown on both sides, about 6 minutes. Remove the pan from the heat.

Place each mortadella stack on a slice of bread and top with a slice of provolone and a second slice of bread to make a sandwich.

Return the pan to medium heat and add a few tablespoons of butter. Put the sandwiches in the pan and weight them down with a second, smaller cast-iron pan or other weight. Cook until golden brown on one side, about 3 minutes. Add more butter to the pan, flip the sandwiches, weight them down again, and cook until golden brown on the second side, about 3 minutes more. Remove from the pan, cut into halves or quarters, and serve hot.