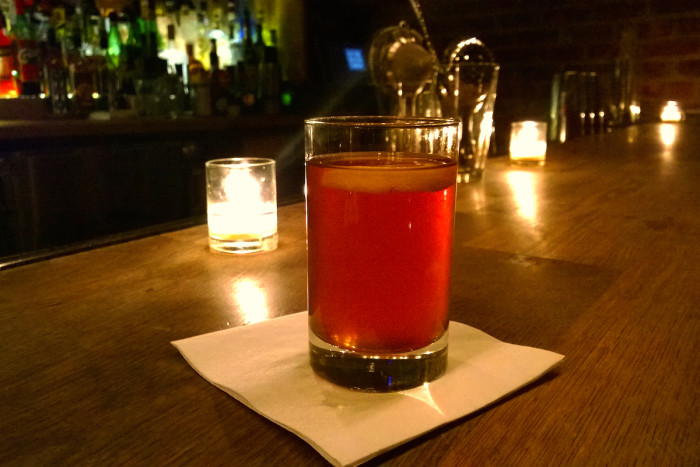 There's nothing like the combination of piping-hot spirit, citrus, sugar and water to warm the soul, especially as winter's chill holds its steady grip. At Brooklyn's The Shanty, a bar connected to the NY Distilling Company and co-founded by notable spirit expert Allen Katz, they bring a lighter, more aromatic approach to the traditional hot toddy, driven by Mister Katz's Rock & Rye spirit.
Rock & Ryes, which are essentially bottled Old Fashioneds, have seen a resurgence in the past year. Allen Katz's recipe macerates his NY State-sourced rye whiskey with dry bing cherries, orange peel from California, cinnamon bark and rock candy for a contemporary reprise of the Rock & Rye, which most people haven't sipped in a bar in at least 75 years.
At 65 proof, the spirit almost becomes a modifier in cocktails, but with the heat of the toddy heightening the effects of the alcohol in the drink, the Rock & Rye balances nicely with honey and lemon while still providing overtones of oak, grain and cinnamon. Though some prefer their toddy with more robust, higher-proof spirits that lambast the senses, I think many would find Mister Katz's more delicate take on this classic provides all the restoration one needs from the cold winter months. Enjoy.
Ingredients
2

ounces

Mister Katz's Rock & Rye

1

teaspoon

honey syrup (2:1 honey and water)

1

teaspoon

fresh lemon juice

1

dash

Fee Brothers Whiskey Barrel Bitters
Directions
Warm a 6-ounce glass with hot water, let sit to warm the glass, then dump.
Combine ingredients into the glass, then add 3 ounces of hot water and stir briefly.
Garnish with a half-lemon wheel.
Find more hot drinks on Food Republic: