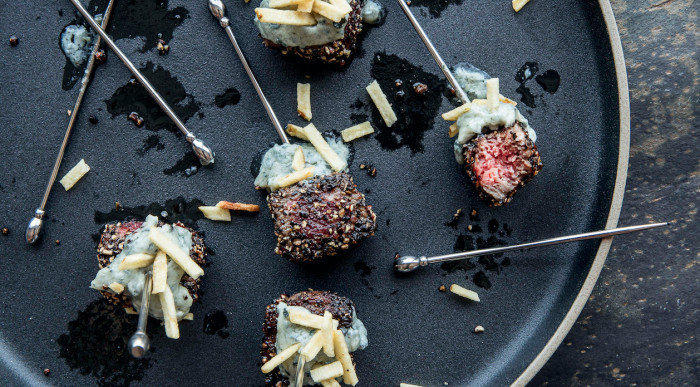 News flash: Model Chrissy Teigen's brand-new cookbook, Cravings, is a sriracha-stained page-turner for the ages. Flip through the Sports Illustrated swimsuit sensation's sweet and savory tome, coauthored with Food Republic contributor Adeena Sussman, and think for the umpteenth time that husband John Legend is one lucky guy. 
Try to get as rectangular and evenly thick (about 1 inch) a piece of steak as you can. You can buy it a little bigger and trim it down to get a perfect half-pound rectangle.
Ingredients
2

ounces

soft, creamy-style blue cheese, at room temperature

1

tablespoon

butter, slightly softened

1/2

pound

New York strip steak, trimmed of excess fat

1/2

teaspoon

kosher salt

3

tablespoons

roughly cracked black pepper

2

tablespoons

canola oil

1/2

cup

crushed potato sticks (the kind you get at 7-Eleven or the corner store, nothing fancy!)
Directions
For the bites
In a small bowl, mash the blue cheese and butter with a fork until smooth.

Pat the meat dry with paper towels and cut into twelve 1-inch cubes. Season it all over with the salt. Place the cracked pepper in a shallow dish and press the steak cubes into the pepper on all sides to form a pepper crust.

In a medium cast-iron or heavy skillet, heat the oil over medium-high heat. When shimmering-hot, add the steak cubes and cook on all sides until medium-rare, about 30 seconds per side. Remove the steak from the skillet by stabbing each cube with a wooden, metal, or bamboo skewer. Squash about 1 teaspoon of the blue cheese butter on top of the meat (it will begin to melt down the sides if you play your cards right), then press a few potato sticks into the cheese.