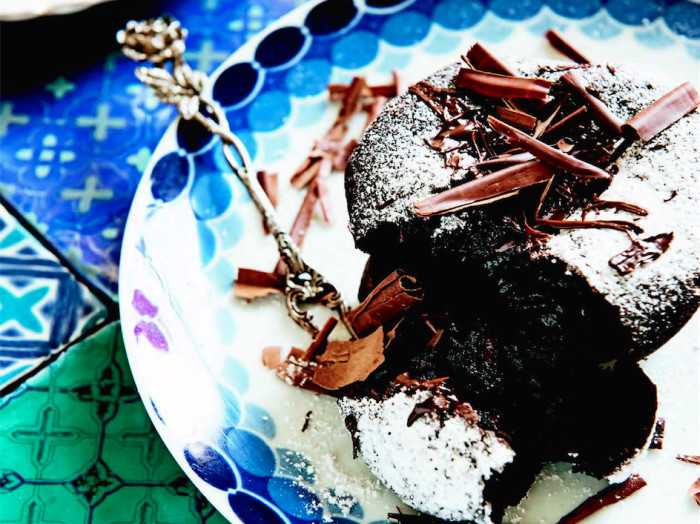 "Alimentari" is Italian for "good food and camaraderie," so what better name for Melbourne, Australia's vibrant multicultural eatery? Join Alimentari founders Linda and Paul Jones on a story-packed discovery of Italian, Middle Eastern and modern European cuisine — and don't skip dessert. This chocolate fondant muffin recipe is a warm, gooey finish to the perfect meal. 

Basically a chocolate self-saucing pudding turned into a muffin, this treat is the gift that keeps on giving. They're best served straight out of the oven. Just add ice cream for a decadent dessert.
Ingredients
Heaping

cup

dark cooking chocolate

Heaping

cup

butter

Heaping

cup

caster (superfine) sugar

8

eggs

1/3

cup

plain (all-purpose) flour

1/3

cup

cocoa powder

Chocolate curls and icing (confectioners') sugar, to decorate (optional)
Directions
For the muffins
Preheat the oven to 300°F. Line one 12-hole or two 6-hole cupcake tins with paper cases.

Melt the chocolate and butter together in a large heatproof bowl set over a saucepan of simmering water. Stir until smooth and combined. Remove from the heat.

In a separate bowl, whisk the sugar and eggs together. Add to the chocolate mixture and stir until combined. Sift the flour and cocoa powder into the chocolate mixture, stirring well until you have a lovely gooey batter with no lumps.

Half-fill the paper cases with the batter. Bake for 20 minutes or until firm to the touch but still sticky in the center.

If desired, dust with icing sugar and top with chocolate curls.