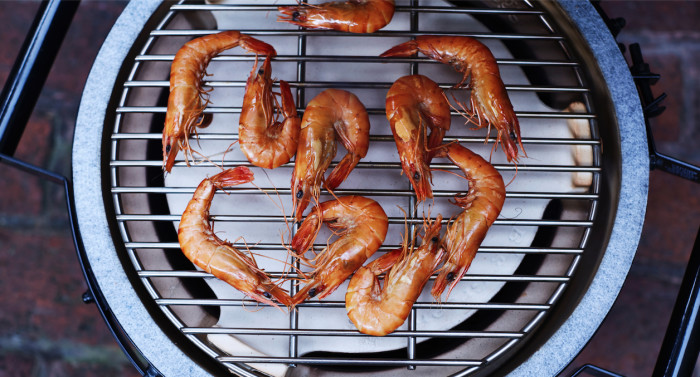 Smoked everything, all the time! That's the motto of food author Charlotte Pike's new book. With recipes and techniques for adding smoky flavor and succulent texture to everything in your fridge, larder and beyond, this is one book the smoke enthusiast needs to own. Ever wanted to make hot-smoked shrimp? 
Shrimp hot smoke very quickly and easily. You can leave the shells on or peel them—it is up to you—but I find small shrimp can benefit from a protective jacket—they can shrink and dry out easily if peeled first and then smoked, and the flavor of the smoke is imparted more intensely. Larger shrimp are more robust and will hold up better to smoking when peeled.
Smoked shrimp are delicious in all types of salads, pies, sandwiches and pasta dishes.
Ingredients
1 1/4

pounds

fresh shrimp, peeled or unpeeled

2

tablespoons

sea salt
Directions
For the shrimp
The first step is to salt the shrimp. Put them in a shallow pan. Sprinkle with the salt and rub it all over each shrimp. Cover with plastic wrap and transfer to the fridge for 2 hours.

After 2 hours, carefully rinse the salt from each shrimp, drying them very well. When you are ready to smoke, set up your hot smoker with wood shavings or chips. When the smoker is between 140 and 220°F and smoke has appeared, hot smoke the shrimp for 15 to 30 minutes until they turn a coral color tinged with ocher around the edges.

Remove the shrimp from the smoker and let rest in the fridge for at least 30 minutes before using. These shrimp can be stored in the fridge for 3 to 5 days, well wrapped.