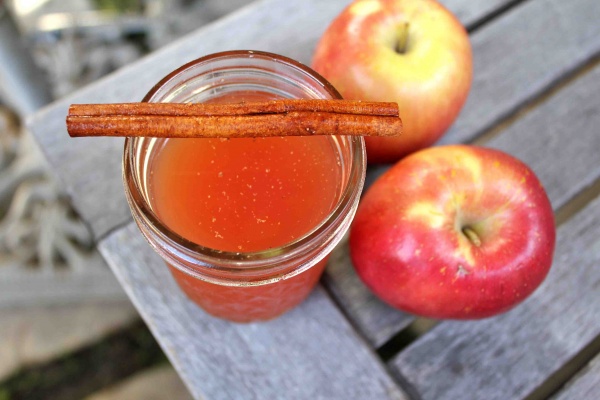 Wondering what to do with that pound of Jujubes you've had lingering in the pantry since your nephew's birthday party? Or are you a fan of Jujubes in general? (Fun fact: In Canada, the term is generic for hard candy.) You can make a candied syrup using the candy, which can be mixed into a grown-up spiced hot cider.
Ingredients
1/2

gallon

unfiltered apple cider

10

ounces

King's Ginger Liqueur, infused with mandarin peels

8

ounces

black tea

3

ounces

jujube syrup (recipe follows)

5

crab apples, sliced

5

dried mandarins

6

whole allspice

15

cloves

1

cinnamon stick
Jujube Syrup
1

pound

jujubes

2

cups

simple syrup
Directions
1. Pierce jujubes with a fork. In a saucepan over high heat, bring to a boil with the syrup.
2. Reduce heat and simmer for 30 minutes. Let cool overnight.
3. The next day, bring syrup to a boil once again and simmer for 30 minutes. Strain and set aside jujubes.
4. In a saucepan over high heat, combine all the ingredients and bring to a boil.
5. Reduce the heat and simmer for 20 minutes. Serve with a candied jujube garnish.
For the Candied Jujube Garnish:
1. Place the cooked jujubes from the simple syrup on a baking sheet and bake in the oven at 350 degrees F for 45 minutes. Lightly dust with sea salt.