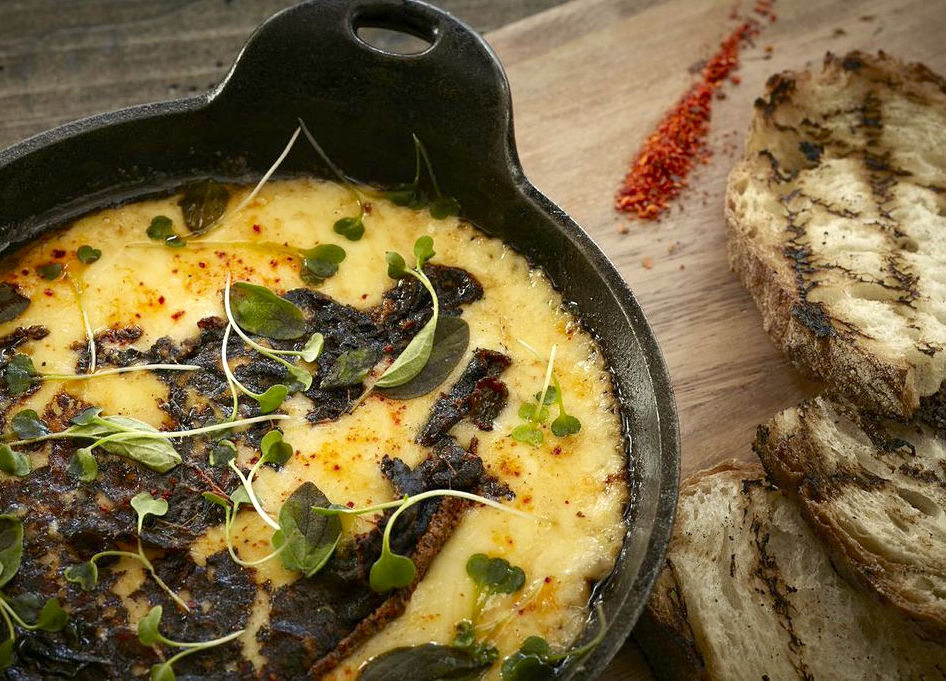 If you're looking for traditional Argentine food, odds are you'll find steak and provoleta on the menu. Provoleta is an appetizer or side dish of simple seared and melted provolone cheese, seasoned with herbs and spiced and served with plenty of bread for dipping. It's fondue at its least pretentious, and it's a great reason to break out the cast-iron skillet (which helps keep the cheese warm and melty). We borrowed this recipe from Chef Victor Albisu, of Washington, DC's South American grill, Del Campo.
Says the chef:
"Who doesn't like seared and melted cheese? The crust is the best part."

Ingredients
1

(1-inch-thick) slice

provolone cheese

1

tablespoon

fresh oregano leaves, preferably small ones

1

teaspoon

chili pepper flakes

2

sprigs

flat-leaf parsley

1

sprig

basil

2

sprigs

watercress

2

teaspoons

extra virgin olive oil

4

slices

country bread
Directions
Heat a cast-iron griddle over medium heat.
Sprinkle the cheese with half the oregano and half the pepper flakes, press the oregano into the top side of the cheese and place on the griddle.
Cook for about 2 minutes, until you see the bottom starting to caramelize.
Turn it over and cook until the second side starts to brown and the cheese is melted.
Sprinkle with the remaining oregano and pepper flakes, drizzle with 1 teaspoon olive oil.
For the herb salad, toss parsley, watercress and basil in a bowl with 1 teaspoon olive oil and salt and pepper to taste. Serve alongside provoleta.
Serve with toasted country bread.
Find more cheese appetizers on Food Republic: