Hot Dog Upgrade! Here's Your Victory Dogs Recipe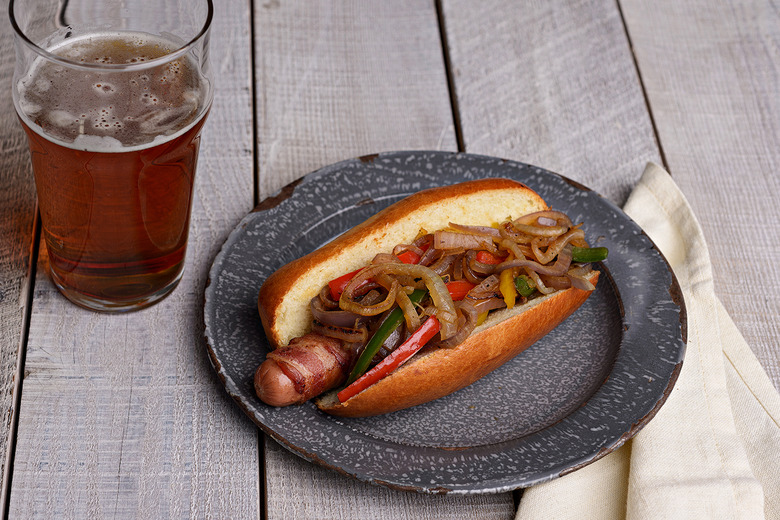 Photo: Mark Shaw
Paul Harrison is a Brooklyn-based recipe developer and professional whiskey fan who penned possibly the greatest recipe for taco meat, ever. We're running his recipes all week long, particularly since this latest batch was inspired by the abundance of Los Angeles–style Mexican food around his alma mater, USC, and shot in our own Test Kitchen. That is some solidly easy tailgating chow. We respect a man with priorities.
People are sometimes surprised that I miss food things from LA besides In-N-Out and amazing Mexican food (though I of course miss those things). I miss getting sushi in Little Tokyo. I miss sandwiches from Bay Cities in Santa Monica. And I miss getting a greasy delicious Victory Dog outside the Coliseum after watching my team demolish some losers in powder blue.
While I don't have the requisite skill to match the master sushi chefs in Little Tokyo, or the ability to make bread that's anything like the bread at Bay Cities, I'll be damned if I can't make a bacon-wrapped hot dog.
Hot Dog Upgrade! Here's Your Victory Dogs Recipe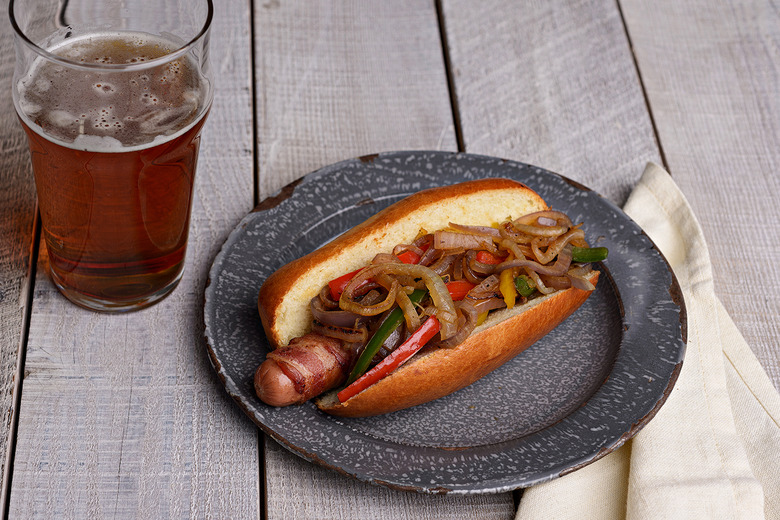 Ingredients
4 hot dogs or brats
4 hot dog buns
bacon (at least as many slices as there are sausages)
1 sweet onion
1/2 red pepper
1/2 yellow pepper
2 jalapeños
ketchup
Directions
Take your hot dogs or sausages and wrap them each with a slice of bacon, starting at one end and moving down in a spiral. Try to space it evenly along the length of the dog.
Get a big heavy-bottomed skillet (if you have cast-iron, now is the time to bust it out), and put it on medium-low heat. Get your dogs in there and cook them until the bacon is nice and crispy, turning them often to make sure you get all sides evenly. Stash them in a warm oven until ready to serve.
Throw the julienned veggies into the same pan right into all that delicious bacon grease and turn it up to medium. Once they are soft, about 10-15 minutes, turn the pan off and remove from heat.
Grab your bun (toasted if you like), put a dog in, top with veggies and add any other condiments as you see fit. Enjoy the taste of victory.
Marc Murphy's Sloppy Dogs Recipe
Dude Food For Your Weekend: José Dog Recipe
Broccoli Rabe And Provolone Hot Dog Recipe