Hot Bird! Mexican Fried Chicken Recipe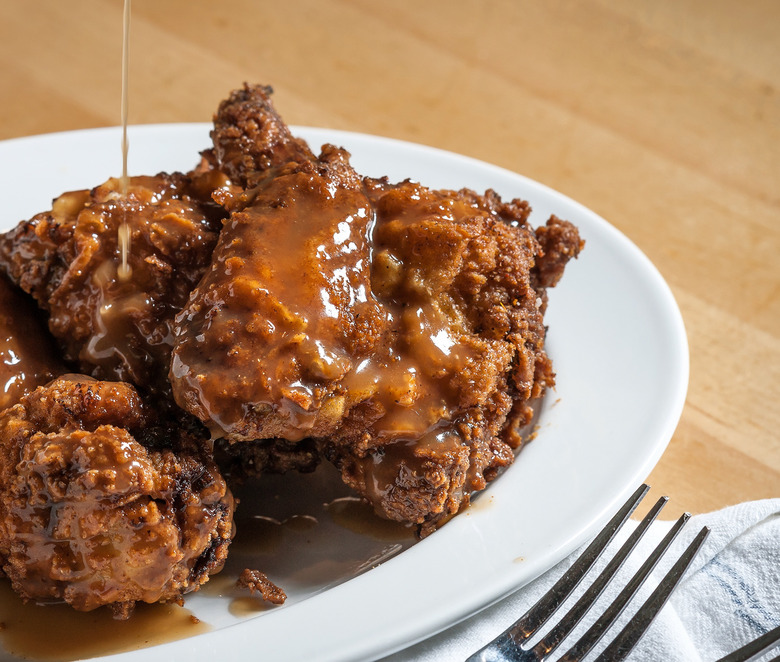 Fried chicken is one of our favorite hot weather foods. Incidentally, so is anything Mexican (and here's the indisputable proof).
Ivy Stark of NYC's Dos Caminos restaurant shared her Mexican fried chicken recipe in the spirit of all things hot, fried, crunchy and especially festive. There's a little heat in the breading, with ground spices for extra flavor. Oh and before the chicken sees any of that, it hangs out in a honey-vinegar marinade for several hours, so don't worry about it drying out. No chance.
Hot Bird! Mexican Fried Chicken Recipe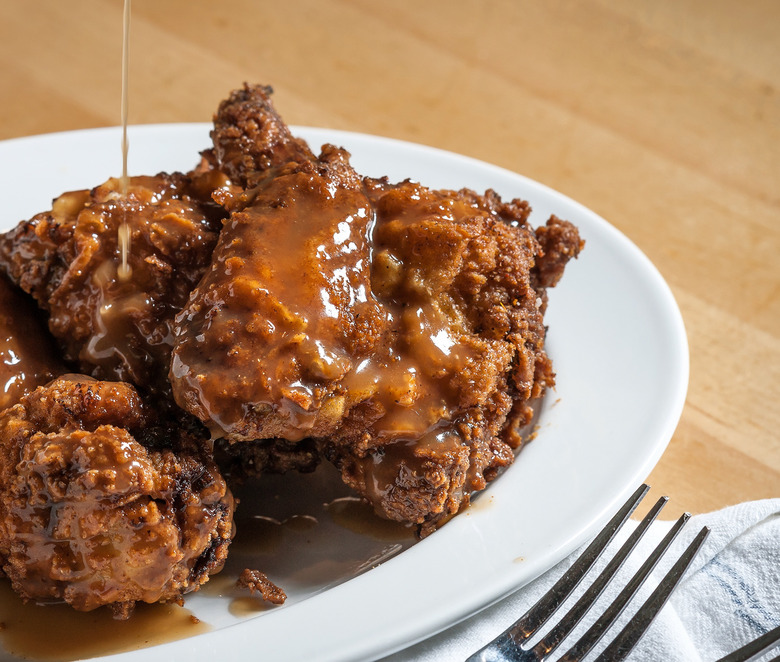 Ingredients
3/4 cup Mexican or other honey
3 tablespoons cider vinegar
2 large pieces bone-in skin-on chicken breast
4 bone-in skin-on chicken thighs
4 chicken drumsticks
Salt and pepper
oil for frying
4 extra-large egg whites
3/4 cup cornmeal or fine breadcrumbs
1 cup flour
1 teaspoon baking powder
1 tablespoon ancho or medium-heat chili powder
1/2 tablespoon smoked sweet paprika
1 teaspoon garlic powder
1 teaspoon granulated onion
1 teaspoon cumin
1 teaspoon coriander
1 lime
Directions
Mix honey and vinegar in a bowl and add chicken. Toss to coat. Cover with plastic wrap and refrigerate for 4 hours. Drain chicken pieces on paper towels and season with salt and pepper.
Heat 3 inches of oil in a large Dutch oven over medium-high heat. Oil should reach between 350°F and 375°F for frying.
Beat egg whites in a shallow dish. Combine cornmeal or breadcrumbs with flour, baking powder and spices.
Coat the chicken pieces in the egg whites then toss in the flour mixture. Fry  in small batches, 12-14 minutes per batch, until deep golden and juices run clear. Season hot chicken with a little extra salt as they come out.
Serve with lime wedges, honey for drizzling and your favorite assortment of hot sauces.  For a fresh accompaniment slice up a tomato, red onion and avocado and serve.
Union Square Café Fried Chicken
Fried Yardbird
Hot Fried Chicken Salad