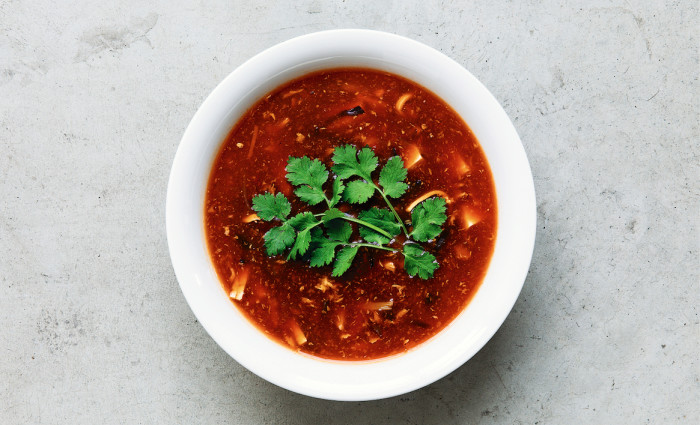 Every lover of Asian food (takeout, specifically) needs a Chinese hot and sour soup recipe in their life, so pick up a copy of the newest comprehensive guide to the world-renowned cuisine of China. We're talking all provinces, all dishes, for every meal of the day. Whether you're craving sweet and savory barbecued meats, wok-crisped vegetables, steaming bowls of noodles, fluffy stuffed buns or hard-to-find specialty and holiday dishes, China: The Cookbook is exactly what you need.
Follow best-selling authors Kei Lum Chan and Diora Fong Chan through the cities and countryside, and pick up a few key techniques while you're at it.
Ingredients
4

dried black mushrooms

1/4

cup

dried black fungus

3 1/2

ounces

lean pork, cut into strips

2

teaspoons

salt

1/2

teaspoon

cornstarch

7

ounces

firm tofu, drained

1/2

teaspoon

granulated sugar

2/3

cup

sliced bamboo shoots, drained

2

tablespoons

water chestnut flour or cornstarch

1

egg, beaten

5

tablespoons

red vinegar

1/2

tablespoon

ground white pepper

1

teaspoon

sesame oil

2

cups

cooked egg or rice noodles (optional)

cilantro, to garnish (optional)
Directions
For the soup
Put the mushrooms and black fungus into two separate bowls, cover with cold water, and soak for at least 20 minutes, or until softened. Drain both. Remove the mushrooms, squeeze dry, and discard the stems. Thinly slice, then set aside. Tear the black fungus into small pieces.

Combine the pork, 1/4 teaspoon salt, and the cornstarch (corn flour) in a bowl and set aside.

In a separate bowl, combine the tofu, 1/4 teaspoon salt, and enough cold water to cover and soak for 15 minutes. Drain, cut into thin strips, and set aside.

Bring 4 1/4 cups water to a boil in a large saucepan and add 1 teaspoon salt and the sugar. Put in the mushrooms, black fungus, and bamboo shoots. Drop the pieces of pork, using chopsticks to gently disperse them to prevent sticking. Do not stir.

Mix the water chestnut flour with 4 tablespoons water in a small bowl, stir until dissolved, and pour slowly into the soup, stirring continuously. Add the tofu and reduce to medium-low heat.

Hold a strainer (sieve) over the soup and slowly pour the beaten eggs into the strainer. At the same time, move the strainer in a circular motion over the soup so that the beaten egg is strained into the soup in a continuous line. Let sit for 1 minute; do not stir.

Stir in the vinegar and white pepper, then add the sesame oil. Divide the noodles, if using, among the bowls. Ladle over the hot soup and garnish with cilantro (coriander), if using. Serve.