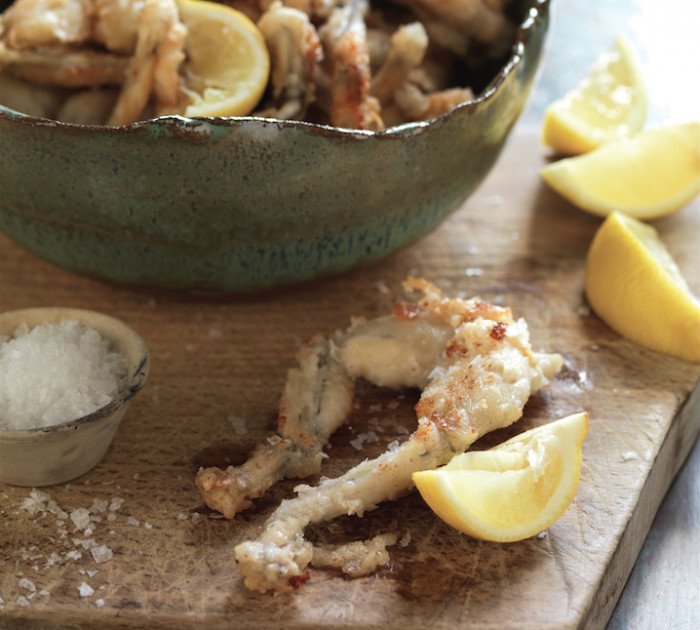 Eating close to nature has never been more popular. Except, well, back when we ate close to nature because that's where food came from. Shun the supermarket tonight and hit the land and sea for the freshest food known to mankind with the award-winning culinary team of John Ash and James Fraioli. 

This simple recipe is an adaptation from Ada Boni's seminal book Italian Regional Cooking and comes from the Piedmont region. The dish is called rane fritte in Italian.
Ingredients
24

prepared frogs legs (pairs if small)

Fresh milk, as needed

3

cups

dry white wine

1

small yellow onion, diced

4

sprigs

fresh Italian parsley

Large pinch of

ground nutmeg

Sea salt and freshly ground pepper (preferably white)

1

cup

all-purpose flour (preferably Wondra)

vegetable oil, for frying

2

tablespoons

chopped fresh Italian parsley, for serving

lemon wedges, for serving
Directions
For the frog legs
In a bowl, soak the frog legs in milk to cover for at least 1 hour. This will help draw out any impurities and whiten and swell the legs. Drain the legs, wash well, and pat dry.

In a large bowl, combine the wine, onion, parsley sprigs, nutmeg, and salt and pepper to taste. Add the frog legs, cover, and marinate in the refrigerator for 1 hour, turning two or three times. Drain and dry the legs, then dust them with flour, shaking off any excess.

In a deep, heavy saucepan, heat 1 inch of oil to 350°F. Fry the legs until nicely browned, working in batches if necessary. Sprinkle with chopped parsley and salt and pepper to taste, and serve with lemon wedges to squeeze over top.