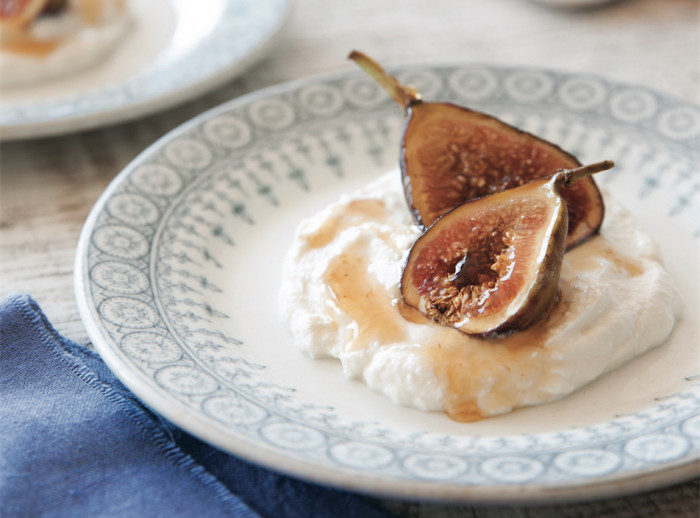 If you've ever wandered around the Portland Farmers Market, you know the pure product glory that inspired market board member, food writer and recipe developer Ellen Jackson's new cookbook. Portland Farmers Market Cookbook is full of stories and photos that will make you want to reach for a fresh bunch of something and pay tribute to one of the most vibrant and lively food shopping experiences in the country. 
Fresh, ripe figs are a luscious treat on their own. Served warm, embellished with a drizzle of honey, a spoonful of sweet lemon-scented ricotta, and a crisp almond cookie, they become an elegant yet easy dessert.
You can sweeten ready-made ricotta and add a little lemon zest, but making your own ricotta is simple and more satisfying. Its fresh flavor and creamy texture are noticeably superior, plus there's the added bonus of having the leftover nutrient-rich whey to add to soups, smoothies, or bread dough.
How to Choose and Store Figs
Figs should be plump and heavy for their size, with skins that are very slightly wrinkled and loose, rather than taut. Their natural sugars can cause them to crack slightly, which is fine, but avoid fruit with bruising. Keep fresh figs in a warm area of the refrigerator and use within two days.
Reprinted with permission from Portland Farmers Market Cookbook
Ingredients
Cookies
1

cup

raw slivered almonds

1/2

cup

sugar

3

tablespoons

unbleached all-purpose flour

2

tablespoons

heavy cream

2

tablespoons

unsalted butter, melted and cooled slightly

3

tablespoons

local honey

6

firm but ripe figs
Ricotta
1

tablespoon

confectioners' sugar

2

teaspoons

finely chopped lemon zest, reserved from making the ricotta

1 1/2

cups

homemade ricotta cheese or store-bought
Homemade Ricotta Cheese
2

medium lemons

2

quarts

whole milk

1/2

cup

heavy cream
Directions
For the cheese
Zest one of the lemons; you should end up with about 2 tea- spoons. Finely chop the zest and reserve it for the finished ricotta. Squeeze the juice from both lemons and measure out 1/3 cup (reserve any remaining juice for another use).

In a heavy-bottomed nonreactive pan, using a wooden spoon or heatproof spatula, stir together the milk, cream, and 1/3 cup lemon juice for several seconds. Set the pot over low heat and leave until the mixture registers 175° Fahrenheit on an instant-read thermometer; this will take 40 to 50 minutes. Gently stir the milk once or twice during this time. Do not stir too often or too vigorously, or you will break up the curds as they are forming.

After the cheese has reached 175°, increase the heat to medium-high and, without stirring, watch the pot until the temperature reaches 205°; this should take 3 to 5 minutes. The surface of the milk will look as though it is going to erupt; don't let the milk boil. Remove the pot from the heat and let it sit for 10 minutes. You now have curds and whey.

Place a sieve over a large bowl and line it with fine-weave cheesecloth. Scoop the curds into the cheesecloth and let them drain for 10 minutes. Put the ricotta in a covered container and refrigerate for 3 to 5 days. The whey will keep in the refrigerator for about 1 week, or up to 3 months in the freezer.
For the dessert
To make the cookies, preheat the oven to 350°. Line 2 baking sheets with parchment paper and set them aside.

In the bowl of a food processor, pulse the almonds, sugar, and flour until the nuts are finely ground. With the machine running, pour in the cream and butter and process until you have a soft dough.

Drop the dough by tablespoons onto the prepared baking sheets, spacing them 2 inches apart. Dip your fingers in a bowl of cold water, shake off the excess water, and flatten the cookies with your fingers. Bake the cookies until they are golden brown, 7 to 9 minutes. Cool them slightly on the baking sheets before using a spatula to remove the cookies to a wire rack to cool completely. Reduce the oven temperature to 325°.

In a small baking dish, add the honey and place the figs on top. Bake for about 5 minutes, until the figs are warm and the honey is syrupy.

To make the ricotta, in a small bowl, use a spatula to fold the sugar and lemon zest into the cheese. Taste, and add a little more sugar if desired.

To assemble, put a scoop of ricotta on each of 6 plates. Add a fig, whole or halved, and drizzle it with the honey from the pan. Arrange a few almond lace cookies alongside and serve immediately.