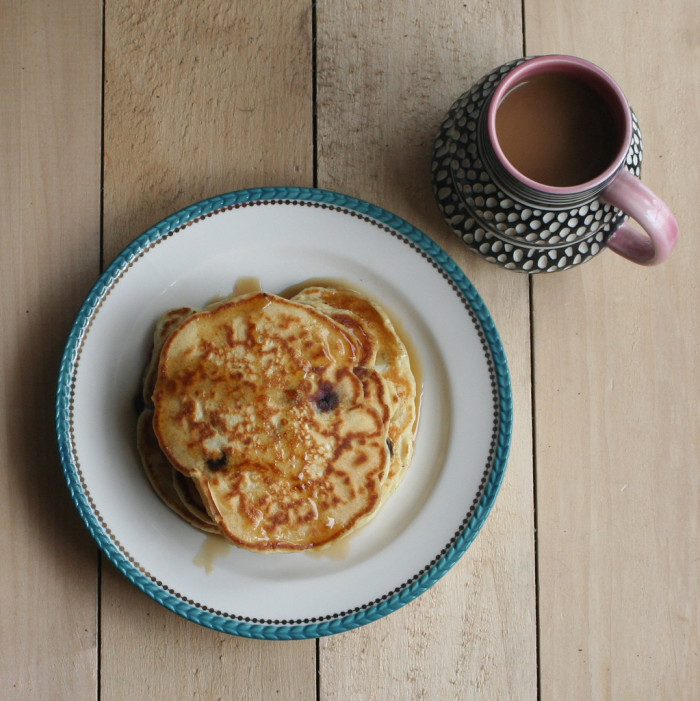 If you're going to make something sweet for brunch, make something sweet, but don't cop out by tossing a handful of chocolate chips in batter and calling it impressive. Instead, go exotic. Honey and dates have been a classic pairing for …oh, about 8,000 years, so it only makes sense to add them as a tribute to Food Republic's impressive roster of "modern" pancakes that includes all-stars like Red Velvet and Coconut Macaroon and other varieties we're sure would have caught on with the Mesopotamians.
Ingredients
1 1/2

cups

all-purpose flour

2

teaspoons

baking powder

1/2

teaspoon

salt

3

tablespoons

unsalted butter, melted

3

tablespoons

honey

1 1/2

cups

milk

1

large

egg

2/3

cup

pitted dates, chopped

vegetable oil
Directions
In a large bowl, whisk together flour, baking powder and salt and set aside.
In another bowl, whisk together butter, honey, milk and egg and set aside.
Add the wet ingredients to the dry ingredients and beat until just combined and smooth. Add dates and gently fold in.
Heat a large non-stick skillet over medium heat and add a small amount of vegetable oil to coat.
Drop 1/4-cup batches of batter onto the pan and cook until surface is bubbly, then flip and cook for 2-3 minutes on the other side, or until golden browl.
Serve hot with honey or maple syrup.