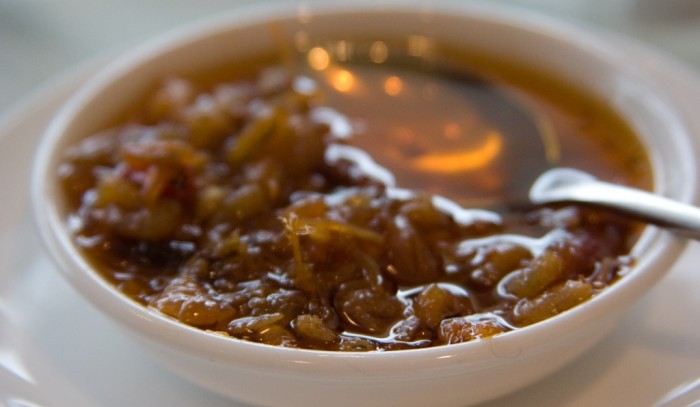 For many Jewish families, Christmas means enjoying each other's company over Chinese food and movies (among the only businesses open in otherwise eerily abandoned ghost towns on Christmas Eve and Day). At his nationally recognized West Newton bistro Lumière (accolades from Bon Appétit, Food & Wine and Saveur), Michael Leviton is recreating this long-standing Jewish Christmas tradition featuring interpretations of Chinese food using local, sustainable ingredients and classic French techniques on Christmas Eve.
Leviton's homemade XO sauce, a salty-savory-sweet Chinese condiment made from caramelized dried seafood and sausage, is a great match for pork belly, scallops and a range of other Chinese dishes. You'll notice that the XO sauce calls for house-dried seafood, but the home chef can buy this all at a well-stocked Asian market or by hunting around online Asian food sites.
Ingredients
1 1/3

cups

Chinese sausage

1/4

cup

house-dried scallop

1/4

cup

house-dried Maine shrimp

1/4

cup

house-dried crabmeat

1/2

cup

minced ginger

1/2

cup

minced shallot

1/2

cup

minced garlic

1/2

tablespoon

crushed red pepper

3

tablespoons

fermented bean paste

3

tablespoons

soy sauce

1/2

cup

sesame oil
Directions
Cover the dried seafood with boiling water and rehydrate overnight in the refrigerator.
The next day, drain the water from the seafood. Render the fresh sausage carefully, going for a deep golden brown without burning. Pour off the fat except for 1/2 cup.
Meanwhile, purée the seafood in a food processor until finely chopped. Reserve. Once the sausage has caramelized, add the red pepper and cook 30 seconds, then add remaining ingredients including the reserved 1/2 cup sausage fat (but not the sesame oil) and cook very slowly, stirring frequently. The idea is to lightly caramelize the entire mixture slowly over 20-45 minutes.
Once desired coloration has been achieved, add sesame oil. Combine well and adjust seasoning.
Try out these Chinese dish recipes on Food Republic: