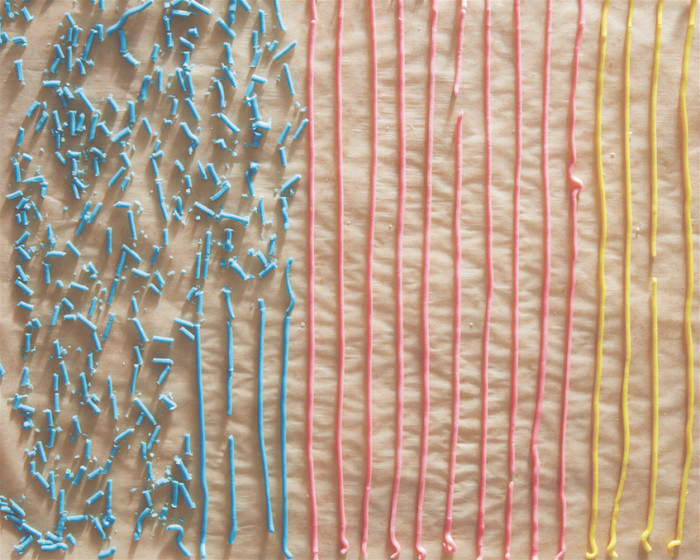 Leave it to the Test Kitchen pros at Food52 to churn out books that everyone can cook through, no matter their skill level. Homemade is always better, particularly when it comes to foods of indeterminate origin, like certain ice cream toppings. Ready your sundaes, because you're about to learn how to make homemade sprinkles!
We'd have a hard time telling you what store-bought sprinkles are made of, let alone what they taste like. So for sprinkles that are flavorful and delicious enough to eat on their own, it's worth it (and pretty dang simple) to make them yourself. The best part? You can think about your ice cream's taste and appearance and choose your sprinkles' flavor and color scheme accordingly. Make it as elegant (dark sprinkles on chocolate ice cream) or as whimsical (a rainbow of sprinkles on mint-basil chip) as you'd like.
Ingredients
1

cup

confectioners' sugar, sifted

1

egg white, at room temperature

3/4

teaspoon

vanilla or any other extract, such as rose water or peppermint

1/4

teaspoon

kosher salt

Up to 3 food colorings of your choice
Directions
For the sprinkles
In the bowl of a stand mixer fitted with a paddle attachment (or using a handheld electric mixer), beat the confectioners' sugar, egg white, vanilla, and salt on low speed until combined.

Divide the paste among as many bowls as you have colors, tinting the paste in each bowl. Use a rubber spatula to stir the food coloring into the paste until it's an even hue. Adjust the amount of food coloring (if it's too thick) and sugar (if it's too thin) in small increments until you find a consistency that's squeezable.

Transfer the pastes to pastry bags fitted with small pastry tips such as Wilton's No. 2 or 3, or a zip-top plastic bag with one corner snipped. Pipe out long, thin lines on a baking sheet or jelly-roll pan. Repeat the process with the remaining colors and let the piped lines set, uncovered, in a dry place for 24 hours.

Once the piped lines have dried completely, use a bench scraper or a butter knife to chop them into short sprinkles.

Use immediately or store in an airtight container at room temperature for up to 1 month.