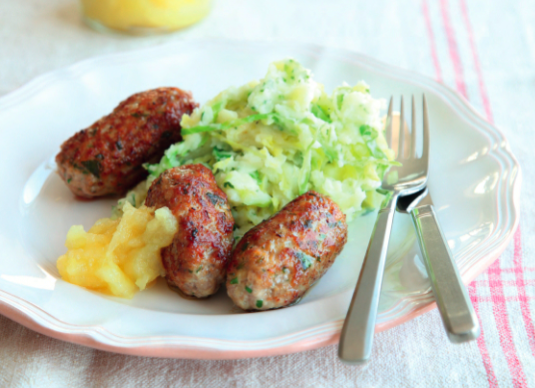 For me there is nothing quite so comforting as bangers and mash, and these homemade sausages are ever so tasty and easy to make. Colcannon, which is a traditional Halloween-time Irish dish of mashed potato with cabbage, is perfect winter food.
Ingredients
1

pound

fatty ground (minced) pork

1

cup

fresh breadcrumbs

1

egg, lightly beaten

1

clove

garlic, crushed

1

tablespoon

chopped fresh parsley or marjoram

Salt and freshly ground black pepper

3

tablespoons

olive oil or sunflower oil
Colcannon
3

pounds

baking or russet (floury) potatoes, scrubbed

1/2

cup

butter

1

pound, 2 ounces

green cabbage, outer leaves removed

2

tablespoons

water

1

cup

milk, heated

2

tablespoons

chopped fresh parsley

Salt and freshly ground black pepper
Applesauce
1

large

cooking apple, peeled, cored and coarsely chopped

1

tablespoon

water

2-4

tablespoons

sugar
Directions
For the sausages:
To make the sausages, mix together the pork, breadcrumbs, egg, garlic and parsley. Season with salt and pepper. Fry a tiny bit of the mixture in a pan with a little olive or sunflower oil to see if the seasoning is good.
Divide the mixture into 12 portions and shape each one into a sausage. Place on a baking sheet or plate and set aside until you want to cook them. (Chilling them for a day in the fridge is fine, or you can freeze them.)
For the colcannon and cabbage:
To make the colcannon, cook the potatoes, covered, in boiling salted water for 10 minutes. Then drain 3/4 of the water and continue to cook over low heat with the lid on for another 20 to 30 minutes until cooked. Test using a skewer or feel with your fingers; avoid stabbing the potatoes with a knife because this will make them break up. When cooked, drain all the remaining water, peel and mash with 1/4 cup of the butter while hot. I usually hold the potato on a fork and peel with a knife if they are hot.
Meanwhile, cook the cabbage. Cut the cabbage into quarters, then cut out the core. Thinly slice the cabbage across the grain. Heat a saucepan, add the remaining 1/4 cup butter, water and the sliced cabbage. Toss over medium heat for 5 to 7 minutes, until just cooked. Add to the potatoes, then add most of the hot milk and the parsley, keeping some of the milk back in case you do not need it all.
Season to taste and beat until creamy and smooth, adding more milk if necessary.
For the applesauce and cooking:
While the potatoes are cooking, make the applesauce and sausage. To make the applesauce, put the apple in a small saucepan with the water. Cover and cook over a gentle heat (stir every now and then) until the apple has broken down to a mush. Add sugar to taste.
To cook the sausages, heat a frying pan on a low to medium heat, add 2 tablespoons of the olive oil and gently fry the sausages for 12 to 15 minutes, until golden on all sides and cooked on the inside. Serve with the colcannon and applesauce.
Try out these other recipes for St. Patrick's Day on Food Republic: