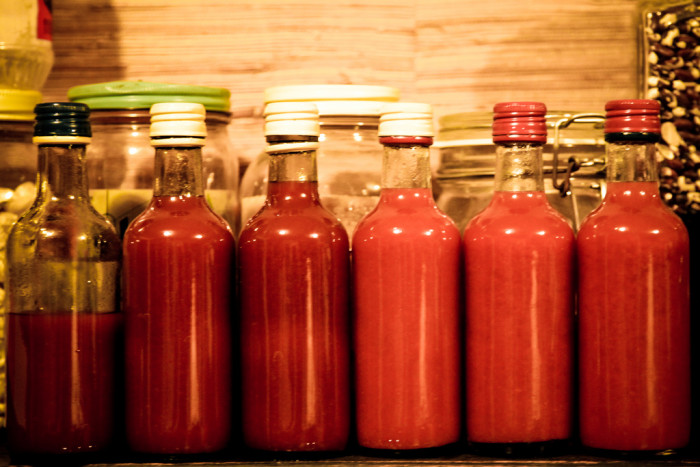 If you find yourself indecisively staring down your crusty-capped hot sauce collection more frequently than you'd like, consider brewing a batch of your own. Just imagine the look on your buddies' faces when you pull out an unlabeled bottle or jar of your very own blend and offer this disclaimer: "Careful, that's a proprietary formula I've been working on."
If you own a blender and can operate it, this easy homemade hot sauce is the next step. We recommend using serranos, which retain their chili flavor while packing quite a punch. Want to take it to the next level? Opt for habaneros, also known as scotch bonnets. Remember to wash everything thoroughly (hands especially) or face the wrath of capsaicin on your more burnable parts. There's a reason they say "If you can't take the heat, get out of the kitchen."
Ingredients
1

tablespoon

olive oil

1

cup

carrots, chopped

1/2

cup

onions, chopped

3

cloves

garlic, chopped

6

whole habanero or serrano chiles

1/2

cup

white vinegar
Directions
1. Heat olive oil over medium heat in a large skillet and saute the carrots, onions, and garlic until translucent, about 5 minutes, then let cool completely.
2. Transfer mixture to a blender, add the peppers and blend until smooth, gradually adding vinegar until you reach desired consistency.
3. Pour into a clean jar or bottle. Store in the refrigerator for up to 6 months.